 It's that time of the week again when we save you some money. We know - that was quick! It seems like only yesterday when we showed you last week's dupe. Is it just me or does this year seem to be flashing before your eyes even more quickly than last? Anyway, today I am bringing you contouring palettes. The never ending saga to learning how to contour your face is going nowhere fast, so for all you skeptical folk out there, you can now buy one from Catrice Cosmetics for a budget friendly €4.50 and give it a go for yourself.  

Catrice has put together five shades ranging from light to dark, for both shading and highlighting your face. They are all matte bar one shimmer highlighter. Here is the product swatched on my arm. I found the pigment varying in the shades, the darkest one (first) was quite sheer and took a while to build up. The main thing with this product is to warm it up in your hands before application.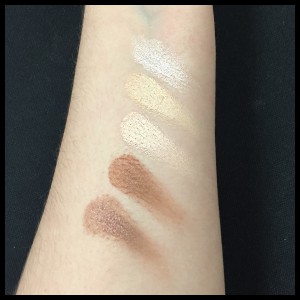 Makeup Forever on the opposing side has just launched their own contouring pallet. This one will set you back €40.

This pallet includes four colours:
1x Highlight
1x Contour
1x Shimmer
1x Blusher
Advertised
Designed by Dany Sanz, who was inspired by her Fine Arts School background where she learned to master light and shading techniques. She created these products "with a sculptor's mind".  Don't you just love a story behind a product? This palette includes a pro step-by-step guideline so you can sculpt like an expert so although the Catrice is an absolute steal, the Make Up For Ever kit might just be worth it for the bonafide expertise behind it. Have you tried a cream contour palette yet?