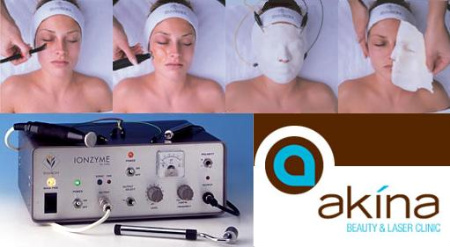 Like most people, when I bother my arse to go for a facial I like to feel that I'm getting something I couldn't actually do for myself at home. So bog standard facials of the cleanse/tone/exfoliate/mask while the therapist goes off to chat and make herself a cuppa/half-hearted hand and arm massage/moisturise don't really do it for me. Ok, they're pampering, and it's nice to lie back and relax and let someone else do all the work, but an awful lot of facials don't involve anything out of the ordinary. Unless the therapist's particularly attentive and really involved in the treatment - to the point where she nearly has her knee in my chest to really give good extractions and maybe goes with an actually beneficial shoulder massage rather than a limp-handed rub of my arm while a mask sets - I'm often left thinking "Sure I could shaggin' well have done that myself!"
And I'd have had a cup of tea for my troubles, too.
No such thoughts about DIY crossed my mind after having an Environ Advanced Ionzyme Vitamin Facial (€86) in Akina in Dublin's Temple Bar, I can tell you. Environ facials are all about maximising penetration of advanced active vitamin formulas, especially Vitamins A, C and E, into the skin, and the particular version that I had involved the use of the Environ Ionzyme-DF machine. That's a magic little box that uses active sonophoresis (sound waves) and intensified iontophoresis (an electrical current, a.k.a. galvanic therapy) to drive your prescribed cocktail of vitamins deep into the skin to improve cell renewal and stimulate collagen and elastin production for firmer skin. The combination of this sonophoresis and iontophoresis business means that vitamins can penetrate the skin skin a whopping 4000% times more effectively than if simply applied topically (regular galvanic therapy on its own would be about 400% more effective).
Advertised
This facial is recommended for the treatment of blemishes, scars, uneven pigmentation, premature ageing, lack of skin tautness, excema, and psoraisis, and aims to restore normal blood flow and encourage proper oxygenation and maximum thickening of the skin. It can also be adapted for use on the body to treat pigmentation problems and stretchmarks, making it an impressive all-rounder. 
So it sounds totally fantastic and mad scientist-y and do-it-all, but was the facial actually any cop? Well, yes - after one treatment, my skin looked significantly brighter and clearer and more plumped up, the appearance of fine lines around my eyes and not-so-fine lines on my forehead was impressively diminished, and areas that had been as congested as the N7 on a Bank Holiday Friday looked like Operation Freeflow had done a number on them. A course of facials is recommended for optimum results, but I have to say that even the single treatment I had yielded fairly long-lasting fantasticness: my skin was glowing for nearly a week afterwards and I found that I was suffering far less than usual with spots popping up on my chin.
Thumbs up!