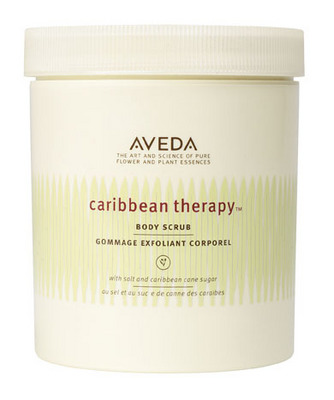 It has been discussed here on the blog more than once in the past, but the current cold weather compels me to bring your attention to Aveda's Caribbean Therapy range yet again today. Wandering innocently through House of Fraser, a salesperson offered me a quick hand treatment with the Caribbean Therapy body scrub. She poured warm water into a bowl for me to soak my hands, and then spooned a small amount of this exotic, spicy concoction into my hands. As I rubbed them together, a creamy lather built up, while the salt and sugar particles gently exfoliated. Amyris, vetiver, bay and lime give the scrub a deliciously tropical fragrance. When I rinsed off, my hand were left feeling smooth, soft and perfectly conditioned by the coconut, avocado and passionfruit oils. Priced at €40, this isn't cheap, but it comes in a huge 450g tub (twice as much as most scrubs contain), and as you only need to use a small amount, it will last ages.
I already have a couple of body scrubs hanging around in my bathroom, but as I needed a body cream, I decided to try the Carribbean Therapy Body Creme. Also pretty pricey at €37.50, but with my arms weighed down by Christmas presents for everyone else, I thought I deserved one too. Now I just need to drop a few hints about how well the Body Scrub will go with the Creme when my current supply runs out...
Advertised
Any of these products would make perfect Christmas presents for bath and body fiends, and if you just can't decide which to choose, there is a gift set containing travel sizes of all the products from the Caribbean Therapy line, packed in a pretty cosmetic case, priced at €45.