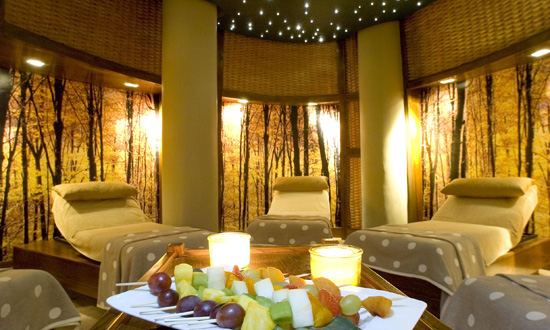 Recently renovated and with a brand new spa offering, the Newpark Hotel in Kilkenny very smartly decided to take Aveda on board as the product of choice. I was down there a couple of weeks ago to give it a whirl, and not having had an Aveda treatment before (I'm not quite sure how I managed that, exactly), I was pretty excited about it.
Escape is very bijoux - it has a mere three treatment rooms, which should mean that the jacuzzi, pool, thermal and relaxation rooms will be a haven of kick-back-and-relax-solitude. Well, it's a little more complicated than that, as the spa shares space with the hotel's health club, so you do have guests and kids using the pool, making it noisy at times.
I was resigned to not zoning out during my treatment as a result, but it turns out that wasn't something I had to worry about - my therapist was excellent, and dozing took place toot sweet. The Pure Focus facial was what I went for: it's a 45 minute purifying treatment and was just the thing my then-stressed skin needed. I was suffering spots from the change in the seasons but this calmed skin right down.
As a product range, I really like Aveda, not least for how gorgeous everything smells, so if nothing else, you get a lovely olfactory experience. This treatment incorporates an Espa-alike element in that you choose one of three oils to be used, and the idea is your body picks the one that's right for you. My nose liked cinnamon, and whether that was to do with the 95 glasses of wine the night before or whether my body ACTUALLY needed it,  I will never know. But it's a purifying spice, so perhaps it was my liver that was crying out for it?
Advertised
While some girls decry a facial if there aren't extractions, as far as I'm concerned, if there's massage included, then that's ideal too. The core of a good anti-ageing treatment should always be massage and lymphatic drainage to plump and tighten skin, help product absorption and reduce puffiness, and my therapist had super-skilled hands. Her fingers drummed, tapped and lightly massaged, and it felt fantastic. My only complaint about the treatment was that it wasn't long enough - another 15 minutes, to round it to an hour, would be ideal.
Pure Focus also allows you to tailor it further with a choice of neck and shoulder massage or a masque; I plumped for massage, and then it was off to the relaxation room, above, for a lie down and some delicious fruit kebabs. Refreshed, I took a gander round the rest of the facilities, in particular checking out the outdoor infinity pool - a really nice addition.
Ah, it's a hard old life altogether, eh?
The Pure Focus facial is €69 and is available now at the Escape Spa at the Newpark Hotel, Kilkenny. 056 776 0500, www.flynnhotels.com/Newpark_Hotel/