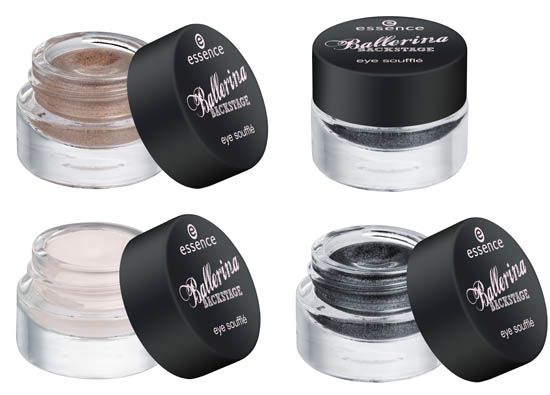 Fluff up your tutus for July because that's when Essence's Ballerina Backstage collection will launch. Pretty colours and soft textures mark the products out - and this collection is really, really good for the price, if the four bits I've been sent are anything to go by.
Before we get to them, lets have a quick jaunt through what'll be on offer.  Three eye soufflés at the eye-wateringly small price of €2.79 will be available. Highly-pigmented and creamy, say Essence, I'd concur. Shades will be 01 dance the swan lake (that pale pink), 02 pas de copper and 03 grand-plié in black.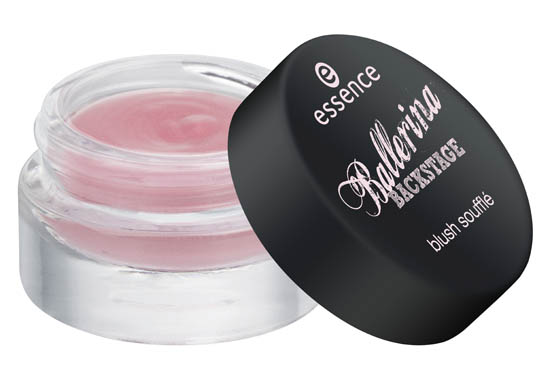 This is blush soufflé in prima ballerina, and it'll be €2.99. It's one I got as a pre-release sample AND I AM LOVING ALL OVER ITS CHEAP AS CHIPS ASS. More below.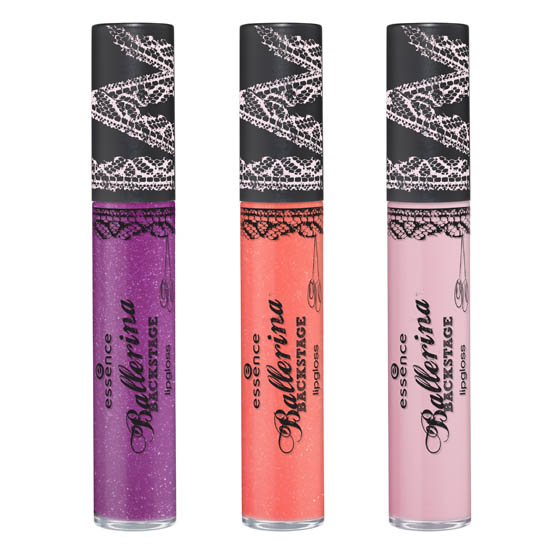 Three shades of lipgloss at €1.99 will form part of the collection. These are decently-sized and have a nice brush (a "premium bristle applicator enables a deliciously smooth application" apparently), plus subtle sparkle. Colours are  01 wear your little tutu (the pink), 02 on your gracile tiptoe and 03 do a floating pirouette. I'm not 100% which of the others is which, as I haven't seen them in the flesh.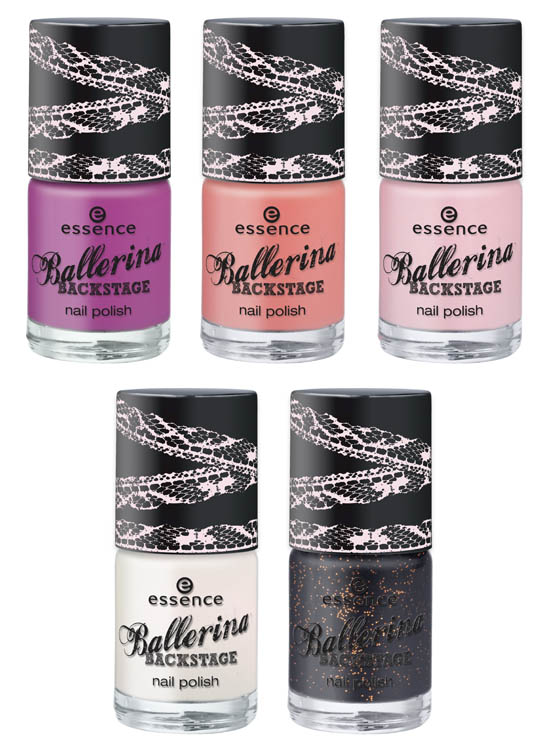 And as always, there are some of Essence's excellent and bargain-tastic polishes.  I haven't had any samples of these so can't tell you much, but am loving the look of the colour edit - in particular that copper-shot black.  Each will set you back a massive €1.99 and the shades are  01 dance the swan lake, 02 wear your little tutu, 03 on your gracile tiptoe, 04 do a floating pirouette and 05 grand-plié in black.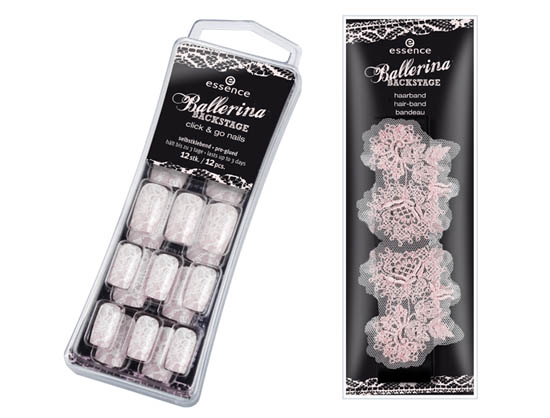 More for nails - and also hair, in this collection.  The press-ons are click and go nails, in 01 it feels like dancing. They're €3.49 and they've got a lace design. That last piece on the right is a hairtie. At €1.99, it's also guaranteed to bankrupt you, eh? Black satin decorated with embellished net is designed to underline your ballerina look.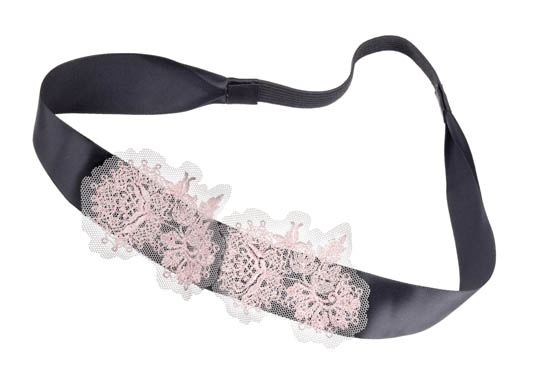 And here it is out of its packet.
Advertised
So, those are the press shots. What did I get to stick my mis-matched nails into?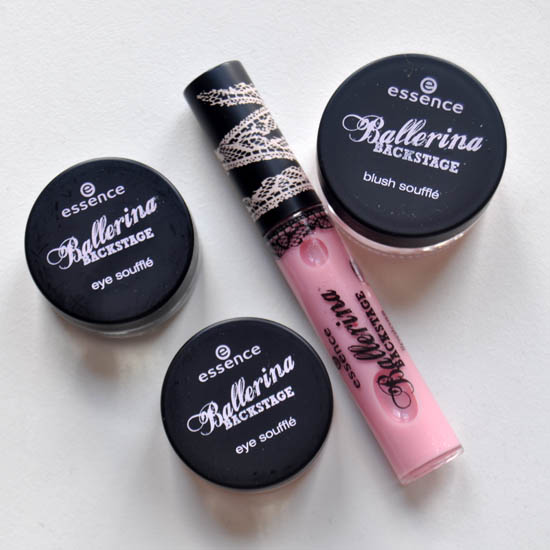 Four products arrived in a Jiffy bag from Essence. The brand sent me eye soufflés in pas de copper and grand-plié in black plus the blush soufflé in prima ballerina and a lipgloss in wear your little tutu.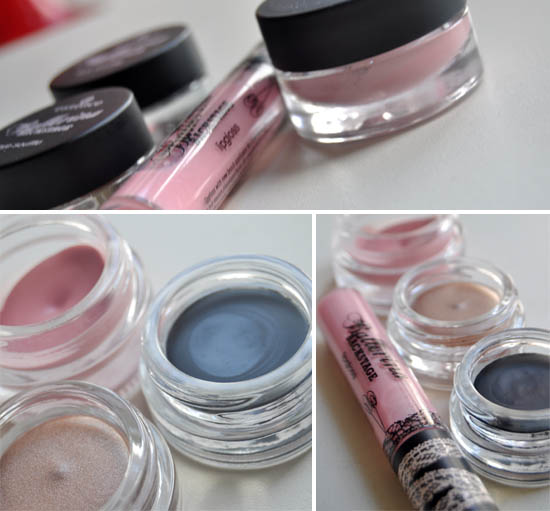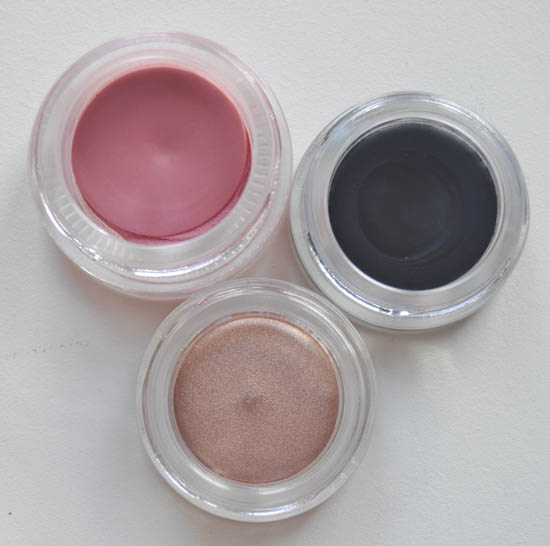 And here are the three soufflé products, of which you get 2.8g.   Contrary to the press shots, the black eye soufflé isn't shimmery at all - but the copper is, oh, the copper is gorgeous. As a result - and there's nothing remotely wrong with the black, it's absolutely fine - I found I kind of abandoned it and just used the copper one a lot. In fact, we've been kind of exclusive, me and it, the last couple of weeks.
These are very firm, not remotely squidgy, there's loads of pigment and shimmer and this shade makes the best and quickest morning eye ever. I lay it onto lids with a flat chisel brush and I can blend it out with a finger if I'm feeling lazy or a blending brush if I'm feeling not. The black is a good kit basic for use as a first step for a smokey eye or for use as a dark base. If it had shimmer, it'd be a knock-out.
Longevity-wise, for the price, these are remarkably good. By the end of the day, if I don't set the copper with anything else or use a base, it's pretty much gone, but another way I've worn it a lot recently is with the navy shadow in the Nars Dogon duo, from the summer 2011 collection. I lay a pie-shaped slice of that to the side of each eye and blend in towards the nose. Those two shades - navy and copper - work really well together, the souffle texture benefits very well from being set with powder, and in that case sticks about in its entirety until it's cleansed back off.
And the blush? LOVE. The most delicate, pale pink flush you ever did see.  6.1g is the size of this and the pot is big enough to get a duo-fibre brush head into, which is I think the best way to apply it. Fingers are fine - I just like how duo-fibres apply gel and cream blushers and in particular, the small head on the Mac 130 short duo-fibre which is what I've mostly been using to buff it on.
There's no glitter or shimmer here, just a nice smooth, silicone-tastic finish which dupes YSL's wildly more price Creme de Blush products rather nicely indeed.  I really, really like this and will use it to the very last dregs.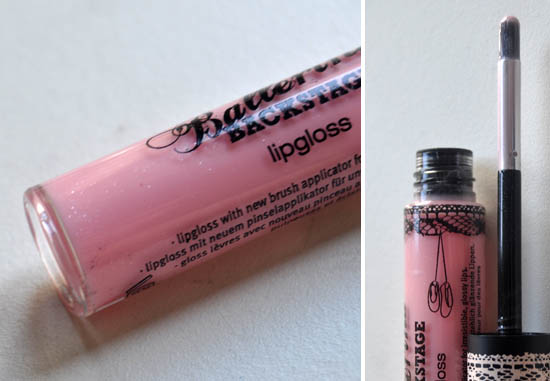 The last product I got to sample was the lipgloss in wear your little tutu. The size is good - 9ml - as is the brush, which is indeed a proper brush-type-brush and is very impressive for the price, but gloss, meh. It's hard to get me too excited about this, though I did try it layered over some pink lipsticks and stains and it's not sticky, so props for that. The glitter is more a shimmer, so props again. The finish is pretty and sheer - and this is a very nice product, no doubt, I'm just not wild on gloss personally, is all.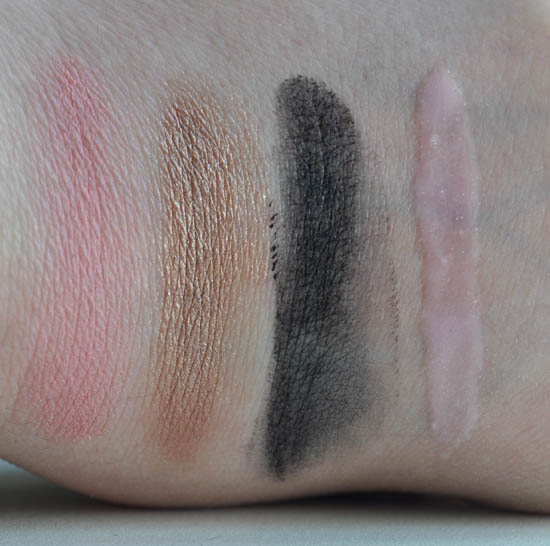 And here are the swatches: blush soufflé in prima ballerina, eye soufflés in pas de copper and grand-plié in black and lipgloss in wear your little tutu. Grand-plié in black's the most disappointing pay-off wise here - but like I say, for the weeny price, a grand basic for your kit.
Advertised
So, can you bear to wait until July until Ballerina Backstage? Y'know what? I've gotten MYSELF all revved up about this launch and I already have this quad of goodies in my bathroom - you lot are lucky ducks that you'll get to discover all this cheap goodness for yourselves in a few weeks time! What do you think you'll get? Tell us in a comment!