 The no makeup look is set to be bigger than ever come spring and colour correct pearls will have a big part to play
I always remember seeing a version of colour correct pearls in the brochure on an aeroplane as a kid. It was Guerlain that did them. I didn't know what exactly they were for at the time, but even then I loved makeup, so I wanted them so much. Guerlain is a luxury brand, though, too expensive for my childhood makeup kit - mainly used on my little sister, some dolls and my cat. Poor Shadow.
Anyway, all makeup lovers and junior makeup artists can get excited because Essence has launched their own version.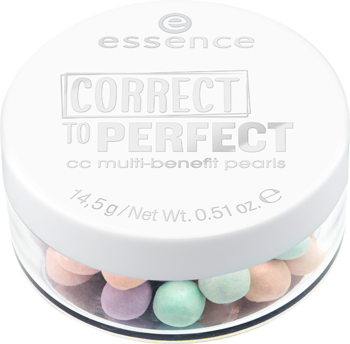 Advertised
Essence Correct to Perfect CC Multi-Benefit Pearls €4.95 (available in Penneys)
Essence launched an almost identical product back in April as part of the 'Little Beauty Angels' limited edition collection. Due to popularity, they were relaunched for Autumn Winter with a new title. But fans rejoice, they do the very same job.
These colourful balls even out your skin texture by using colour correcting method. There are four colours that all have a different job to do. Working together, they're like those guys from Captin Planet, basically.
Green serves to neutralise redness
Purple tones town any yellow pigments
Yellow targets purple tones like the area under the eye
Peach evens out dark spots
The pearls have a powdery consistency, so they mattify your skin at the same time. They are perfect for those who have high colouring or uneven skin texture. To use it, lightly dust the pearls with a powder brush over your foundation and top up if needed throughout the day. We've been practising the no makeup thing by using a transparent powder first over a BB cream, finishing with the pearls. The "no makeup" makeup look was all over the SS18 catwalks. If you like it, these will be an essential part of your makeup routine.
Advertised
And at a €4.95 price tag, it's a steal. You can even buy two. My 7-year-old self is smiling on the inside.