 The nail polish of the year is a little gem from a trusted budget brand you can find in Penneys and pharmacies nationwide.
A couple of weeks ago, essence sent me a stash of new beauty gems from their SS19 collection. It's all fab and cheap and trendy, as usual, but one product stood out to me: this nail polish.
This nail polish is from the essence Shine Last & Go Gel Nail Polish line, and it is an absolute must-have for the year to come. The shade is 'Legally Pink' - a hot pink that is the unofficial colour of 2019. Pantone claimed that 'Living Coral' was the shade of the year, and it's very nice indeed. However, pink of all shades are having a serious moment, and hot pink is coming out on top.
Neon was a massive trend on the runways last year that showcased today's trends. And neon certainly goes with the urban leisure style of cycling shorts and hoodies and that general throw-back to the nineties vibe. If you're not keen on clothes or accessories that bright, but still kinda sorta love the trend, wear it on your nails.
essence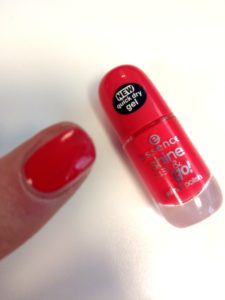 Advertised
Legally Pink Shine Last & Go Gel Nail Polish €1.95
I love the colour, I really do, but I also love the line. The essence Shine Last and Go Gel Nail Polishes are SO easy to apply - the brush is designed really well - and the pigment is strong. The 'Legally Pink' shade has a new quick dry gel formula and dries quickly it does.
It's great in many ways, but the best thing about it has to be the price. At €1.95, you can't ignore it. You can afford to wear it once to match an outfit. You can put it on and take it off a day later if you can't wear it to work, and you don't have to worry about wasting it. 
This is the nail polish of the year, from a colour point of view. But for the quality of the product for the price, it could be the nail polish of the year full stop.