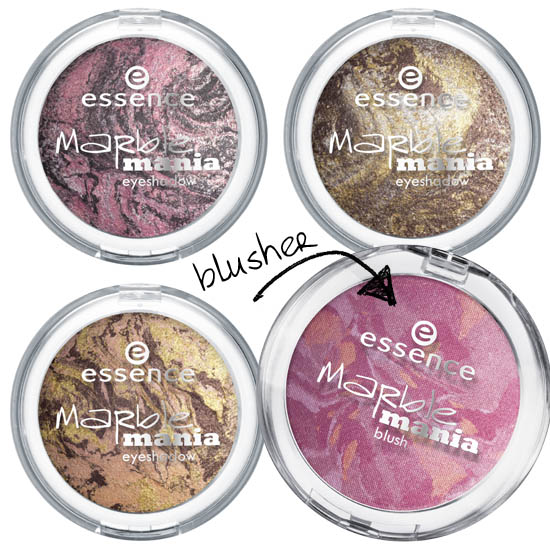 Next up from Essence is Marble Mania and it's a twisty, turny collection that'll be on counter for March and April 2012. Eyes, lips and cheeks - and of course the obligatory nails - are given the treatment.
Here's what's coming:
Marble mania eyeshadow, €3.29, come with triple marbling and a high percentage of pearl-pigmentation - or so the press release says an in anyways - and come in three shades, 01 seriously mixed up, 02 let's get twisted and 03 swirl it, baby!
Marble mania blush, €3.99, is mixed from four marble rosé shades and comes in 01 swirlpool
Advertised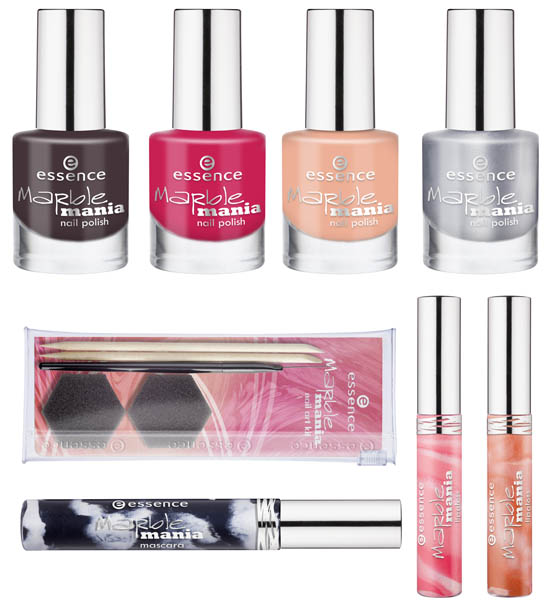 Four marble mania nail polishes are €2.29, come in 01 raspberry swirl, 02 who is mr. brown, 03 silver twister and 04 peaches and can be used to create dry marbled nail art with the nail art kit in the collection
Said nail art kit, €2.79, contains a brush, sponges and two wooden sticks. The brush is ideal for creating lines, stripes and dots with its ultra-fine tip. Use the sponges for "urban airbrush designs or the ultimate marble-look" apparently
Marble mania lipgloss, €2.49, features two swirls of colour in each tube and come in 01 coral whirl and 02 peach and mix
Lastly there's even a mascara - though it's just the packaging that's pattered, with the goo being a black-silver. Marble mania mascara is €3.29
Interested in any of the pieces?
Get Beaut.ie Delivered
Stay updated with Beaut.ie newsletters full of the latest happenings at Beaut.ie as well as great offers and things we think you might find interesting .