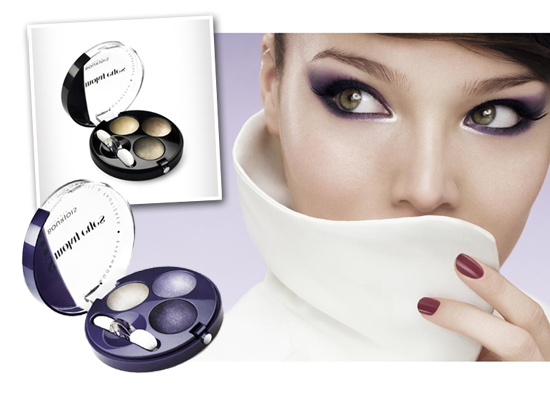 Sorry ladies, I'm going to totally get your hopes up about these, and then dash them: Bourjois' Smokey Eye Trios won't be in-store until November (yes, I know it's August) but I got my lamhs on them last week and am seriously impressed.
Eight trios make up the offering, but only seven will debut here, as the green one, Vert Trendy, isn't launching in Ireland. While it looks lovely, there's plenty more gold (or eyeshadow?) in them thar hills - there are pinks, blues, slates, browns and a wonderful purple.
I've been trialling Bleu Rock and Violet Romantic over the weekend and they're great - you get all the ingredients needed for a smokey eye, including a deep shade for use on the lid and lower lash-line, a lighter one for the crease, and a highlighter for brow bone or to use in at the nose. If you're not quite sure what goes where, there's a handy little diagram on the back of each compact.
Like all Bourjois shadows, they're baked, so work as well wet as they do dry, though you'll get more intensity with a damp brush. Pigment is good; staying power is great and the colours are gorgeous. Price? Oh that's even better: these fellers will be €10.99.
Advertised
For a pic of all the shades, check after the cut.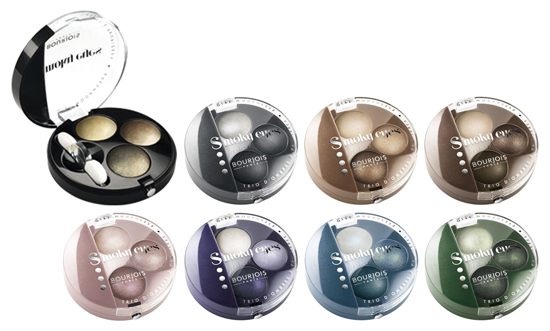 From left to right, on the top row we have Or Baroque, Gris Dandy, Mordore Chic, Nude Ingenue.
On the second row, check out Rose Vintage,  Violet Romantic, Bleu Rock and the afore-mentioned not-available Vert Trendy.