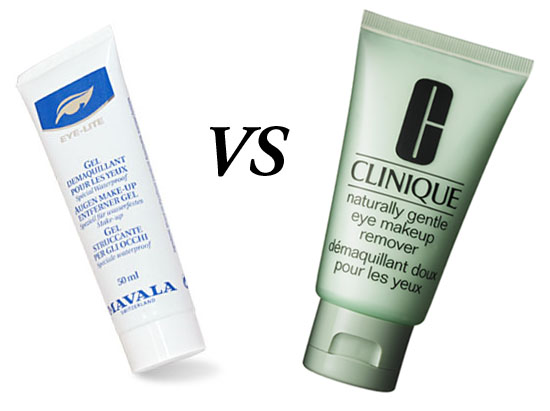 While I'm usually an Eve Lom take-the-whole-feckin'-shebang-off-in-one-go kinda gal when it comes to make-up removal, I'm also someone who likes to use things up. Not to mention likes to pit inanimate cosmetic products against each other in gladiatorial stylee combat.  To see how Mavala Eye-Make Up Remover and Clinique Naturally Gentle Eye Make-Up Remover would fare in my imaginary battle to the death, I used one on the left eye and one on the right (revolutionary!) and readied my thumbs to give judgement.
Mavala Eye-Lite Eye-Make Up Remover, €5.99
Packaging: An opaque squeezy screw-top tube. Colour is white and blue with silver accents, like the rest of the Mavala Eye-Lite range, which lends a sort of clinical feel to the product. A sort of Swiss "we know what we're about, sure don't we make the world's best clocks and most super-secret bank accounts, you're in good hands here" feel.
Texture: This is a light blue semi-transparent gel that looks like it means business. It's a little on the greasy side, which usually indicates eye make-up removers that do well removing stubborn things like glitter and indestructible eyeliner and waterproof mascara, and indeed the blurb sez "for waterproof make-up".
AOB: Fragrance-free, contains no artificial colouring. The gel is blue because it's formulated with azulene, a chamomile extract with soothing properties.
Application: Apply a small amount of the gel to a cotton pad that's been dampened with lukewarm water. Leave the cotton pad on the eye for a few moments before wiping make-up off in a single stroke without rubbing.
Performance: It took several attempts for this to make any inroads on my make-up. I also found that it left quite an oily residue behind, and while I wasn't exactly lashing the product directly in on top of my eyeball it stung like bejaysis and left my vision blurry.
Thumbs: Wavering on the horizontal and heading south.
Advertised
Clinique Naturally Gentle Eye Make-Up Remover, €17.50
Packaging: A see-through flip-top squeezy tube. Colour is standard issue Clinique light green with dark green text and is kind of a bit camouflage-looking. (Hey, I was impressed to see that it had dressed for the occasion.)
Texture: A rich, opaque white cream. Er, that's kind of it.
AOB: Fragrance-free. Allergy tested. Ophthalmologist tested. Suitable for contact lens wearers.
Application: The back of my tube recommends working cleanser directly into lashes and onto the eyelid and then tissueing it away. Clinique's website reckons you should apply a drop to a cotton ball and massage gently over lid and lashes. I've tried both techniques, and both work fine and dandy.
Performance: Does exactly what it says on the tin camo tube. I found eye make-up just slipped off when using this so there was an absolute minimum of rubbing required. Very little residue left behind, and it was non-greasy and easily removed with water. It didn't sting my eye or cause blurred vision.
Thumbs: Enthusiastically pointing up.