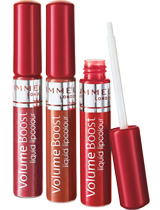 Lip plumping glosses are often pretty expensive - DuWop's Lip Venom being a case in point. It's €18, which is a bit steep for something that contains only 3.5mls, stings yer kisser and doesn't last all that long at all.
Enter Rimmel. Ah, the old reliable, available everywhere and still giving luxury brands a run for their mascara money. They've recently launched a new line of Volume Booster Lipglosses which come in 10 shades and plump lips using collagen and hyaluronic acid - not as scary as it sounds, hyaluronic acid is a wonder-ingredient found in lots of moisturisers as it's able to hold many times its own weight in water, making it a great hydrator.
Advertised
Rimmel are promising a 40% increase in lip voluptuousness (is that a word? It is now!) and up to 6 hours wear with this new gloss. And while I'd be surprised if you got 6 full hours out of it, I bet I won't be surprised by the price - knowing Rimmel, this will be under a tenner.