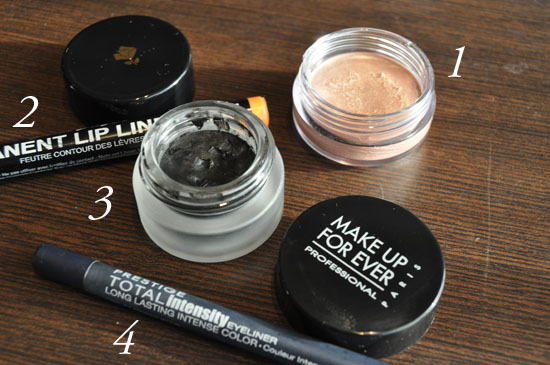 Baggage restrictions being what they are, when I was packing for six days in Barcelona, and more specifically three at Primavera, I was pretty mean with myself about what makeup I could take. So I mostly chose stuff with either a long-wear claim or things I reckoned would stand up to the heat - this time of year, temps are in the mid-to-high twenties, a lot for us raised in a cold, watery climate. Primavera's a three-day outdoor music festival held near the beach so factor 50 was a definite must as well.
I found a few things I'd be happy to take along with me again, you'll be glad to know. Heat notwithstanding, Make Up For Ever's Aqua Cream in 13, (1) a shimmery peach/champagne shade, stood up to the test magnificently. It's not a colour I'd choose to buy myself actually, and it was sent to us as a sample. But it looked good washed over the lid and held powder shadow and liner in place brilliantly. So brilliantly, in fact, that on two occasions when I fell into bed at 4am sans cleansing, my eyes looked just as good the next day. Ahem.
Moving swiftly on. I already knew that Prestige's Total Intensity liner (4) was a winner, and it didn't melt under the spotlight of the sun either. Nor did Lancome's Ink Artliner in Black Carbon Ink (2). I think it was definitely aided by Aqua Cream though as these liners have gone smudgy on me before, when it's been hot and my face has been damp. Ok, sweaty.
Advertised
Lastly, I have more praise for that Stargazer Lip Liner Pen I wrote about recently. As a base for a coral lipstick or worn solo, it was a fab addition for those times when you either need to go hours in between applications or when you're just not arsed about what your makeup's turned into because hey, there's beer and bands on tap.