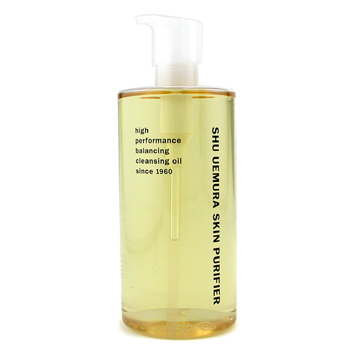 I know, I know. I was supposed to have sworn off oil cleansing for life, written it off as a bad job altogether after my homemade concoctions brought my chin out in what can best be described as bumper crops of vesicles. But when push came to shove, I decided that I just had to try the widely famed, much lauded, allegedly miraculous Shu Uemura stuff for myself.
What can I say, I'm weak.
I'm also a week (ho ho) into using the High Performance Balancing Cleansing Oil. To be honest, I actually bought it by accident; I thought I was picking up a bottle of their Fresh version for oily skins but in my total overexcitement at randomly stumbling across a Shu stockist in Nice I grabbed the original off the shelf like a total spa. Nonetheless, I am still slightly in awe at just how good the stuff is. Massaged onto a dry, fully made-up face and then emulsified with a little water, it dissolves all traces of make-up so effectively that, even when simply rinsed off with H2O, every scrap of maquillage including waterproof mascara is going down the plughole. Seriously impressive. It also really does seem to leave my skin balanced after use - not dry or tight feeling, not greasy, just cleansed and comfortable. Not a hint of irritation to sensitive eyes, either, and one little pump of it goes a very long way - seriously now, don't mind what they say on the packaging about using 3-4 pumps of this stuff, sure you'd horse through it in a matter of days at that rate.
Advertised
So I am cautiously giving it a big thumbs up and hoping I'm not jinxing things!
Take your pick of Shu Uemura's High Performance oil cleansers from Strawberrynet, where a great big 450ml bottle will set you back €56.50 of the Union's finest bucks.