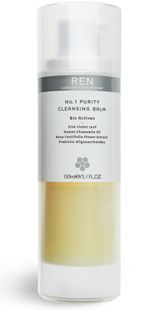 I've been using REN's Calendula and Arctic Berry Ultracalm Cleansing Milk for quite a while now and really like it, but when I read about their new No. 1 Purity Cleansing Balm, I just couldn't resist. Maybe it was the superlative-sounding name, maybe it was the description of "a luxurious silky rose infused cleansing balm", but either way, it didn't take long for it to end up in my shopping basket on the REN website.
This cleanser really is a treat to use. Packaged in the same type of pump bottle as the other REN cleansers, this balm has a thick texture that melts as you massage it into your skin. If you like the idea of cleansing oils, but find them a bit messy to use, this might be the product for you - you get the benefit of the oils it contains without having to worry about the product running out of your hand or off your face before you have time to massage it in. After massaging into the skin for a few minutes, you add a little bit of water to emulsify the balm, which turns it into a white milk and then you can either rinse off or remove with a hot cloth.
Deliciously scented with rose oil, No. 1 Purity Cleansing Balm feels luxurious to use and leaves my skin looking clear and glowing, without feeling stripped. At £28, this is a good bit more expensive than their other cleansers, but it's the type of product I wouldn't use on a daily basis, and as one small pump provides more than enough product for one use, the tube should last a good while.
Advertised
This is available now from the REN website and should be available soon from REN stockists here.