 We've more or less hit the halfway mark of January. The end is nigh... sort of. Anyway, I don't know about you, but while I wish the remainder of the month away, my ravenous appetite for skincare is going unsated. That just won't do.
A budgetary adjustment, however, may be called for. But we can't be SO budget focused that we become like Michael Noonan, and permit our faces to develop the craggy majesty of the Burren region. That wouldn't do either.
The solution, then, is to find some lovely skincare goodies that don't compromise your skin or your wallet. My aim was to find some products that come in under €20. These are all €16 or under. Success! Your face will no longer be a favourite geological destination for ecotourists. Yes. You're welcome.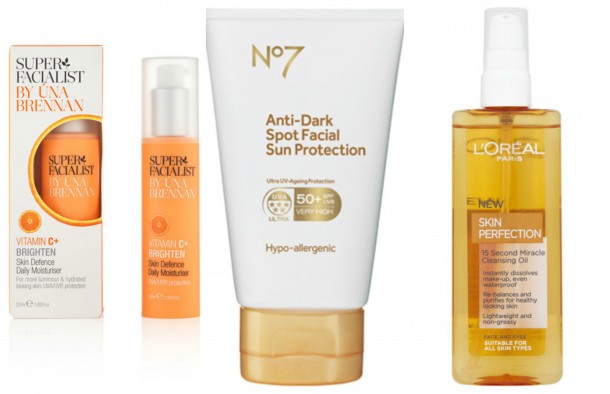 Superfacialist Vitamin C+ Skin Defence Daily Moisturiser 50ml (€12.79)
This lovely moisturiser is designed for those who want to tackle pigmentation issues. It contains hyaluronic acid for hydration and ferulic acid, which inhibits melanin production, to tackle pigmentation issues. That sounds quite scary, but the levels in this moisturiser are minimal, so it's not going to bleach your face! This product is also rich in L-Ascorbic Acid (Vitamin C) which is a great antioxidant and stimulates collagen production. It also helps to minimise scars. This really is an effective and affordable brightening moisturiser.
No 7 Anti-Dark Spot Facial Sun Protection SPF 50+ 50ml (€15.50)
I know some people disagree, but I always recommend using a daily facial SPF for that extra level of protection. If you're applying SPF every day, it can get costly. This is one of the more affordable options which still offers a high level of protection. I also like to squeeze a blob of SPF into my hand cream in the morning. Our hands get such a battering, and they're exposed all the time. It can't hurt! You can read more about this product, and SPF in general, here.
L'Oréal Skin Perfection 15 Second Miracle Cleansing Oil (€7.19)
Advertised
I confess - I'm a facial oil snob. The majority of the time when it comes to facial oils, you get what you pay for. In general, inexpensive facial oils are packed full of mineral oil. That dirty scamp of an ingredient is put in products to bulk them out cheaply, and can seriously congest your skin as well as inhibiting the absorption of the skincare you apply after it. And yes, this product contains mineral oil.
It's not  problem for me this once, however, simply because this is a cleanser. For a first cleanse, this oil is great. It removes all your makeup very easily and emulsifies to wash right off and leave your face feeling clean and non-greasy. The mineral oil should not break you out simply because it isn't spending very much time on your skin. Bang it on,wash it off. Job done. Check out this more thorough review if you'd like to read more about this oil. This is definitely a better option than any cleansers containing alcohol.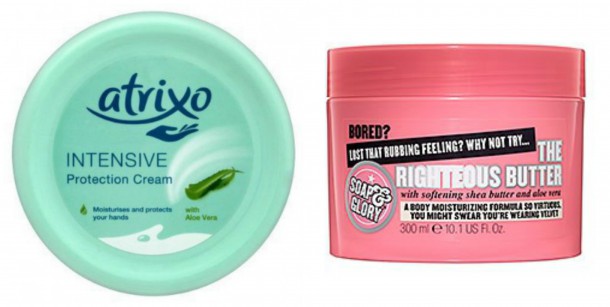 Atrixo Intensive Handcare Protective Cream (€5.99)
This product is a great preventative measure to take. So BEFORE your hands get all chapped by weather and hand washing and general abuse, slather on a layer of this stuff. They'll suffer less for it. It contains aloe vera to soothe any sore dry patches. It's really effective for people who work outside, so before work-roughened or weather battered hands become serious casualties, whack on some of this. Obviously it also works nicely for knees and elbows too!
Soap & Glory The Righteous Butter Body Butter 300ml (€14.75)
This veteran body moisturiser is a beloved of ladies and men who like to smell like fruit the world over. I'm not recommending it as a skin saviour. Anything that's quite scented contains alcohol, which is never the best thing for the skin. But it IS January (in case you hadn't noticed...) and this moisturiser has the luxuriant texture of something much less affordable and more unnecessary!
Pretend it's something fancy, smother yourself in it, and make people's day nicer by smelling really nice next to them.
Advertised
What are your skincare picks under €20? And have you tried any of these?