 This new pharmacy skin brand was developed by Boots and lots of familiar faces are talking about it on Instagram.
If you search 'goodskinin28' on Instagram you will find a plethora of well known Irish faces talking about the new pharmacy skin brand. From Boots, it's very cleverly called YourGoodSkin. I mean, what better name can you give a skincare line? It's also well packaged to look like it means business.
Now, I am always sceptical of sponsored posts on Instagram but I like the people they have chosen for this campaign. They challenged some well known Irish personalities that I would expect the truth from like TV3's Anna Daly, presenter Michele McGrath and Stellar's Valerie Loftus. The challenge was to use the YourGoodSkin range for 28 days and share their results.
What I like about this range is that it is really simple. Your skincare routine can just be a cleanse, serum and SPF moisturiser in the morning and then a cleanse and serum at night. I love simple and I love multi-tasking products. It's ideal for anyone who needs a quick and simple skincare routine. I don't think you will get groundbreaking results with this.
Advertised
YourGoodSkin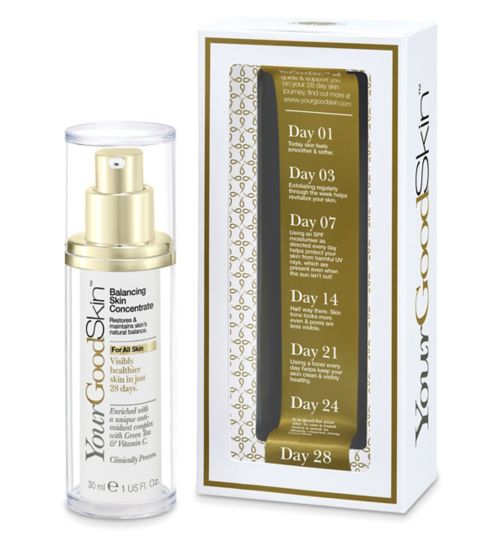 YourGoodSkin Balancing Skin Concentrate €21.99
The heroes of the range for me are the balancing skin concentrate that you can use both morning and night after cleansing and the SPF moisturiser.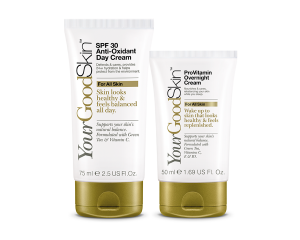 YourGoodSkin SPF30 Anti-oxidant Day Cream €9.99
Advertised
The balancing skin concentrate targets five of the main skin concerns and controls shine, smooths texture, evens skin tone and hydrates and brightens the skin at the same time. You really can't go wrong with a good moisturiser with SPF. This one is oil free. It controls shine, hydrates your skin and gives a healthy SPF 30.
Have you seen the range in Boots? Have you tried it? Would you give it a go?