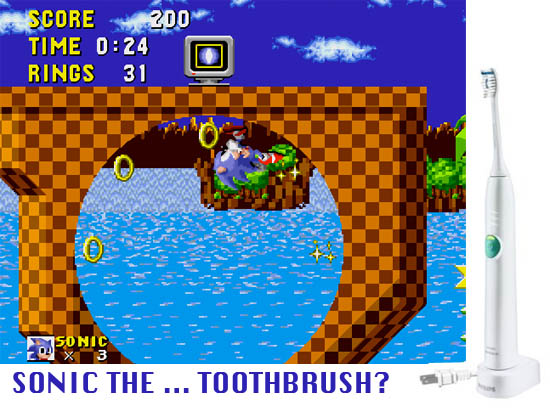 Apart from occasionally gassing about whitening and gabbing about braces, we haven't really tended to talk about teeth too much here on the blog of late. Although maybe we should, given that all the lippie in the world can't do much to enhance your smile if you're neglecting your poor old gnashers. Good basic dental hygiene isn't rocket science, of course: brush twice daily, use a mouthwash, and floss.
Simples!
However, I'm about to upgrade my toothbrush so I'm going to see if using a newfangled sonic motorised version can make a positive impact on the state of my teeth with a minimum amount of effort on my part. I'll be brushing them anyway, like, so why not try and get a new brush that's going to give most bang for my bucks?
Advertised
I haven't made purchase yet, but I've had a good read of user reviews and sifted through a number of manufacturer websites in the course of my research. Philips Sonicare promises me exceptional plaque removal and sez I can expect "healthier gums in two weeks" (sonic toothbrushes recommended by periodontists to fight gum disease) as well as "healthier and naturally whiter teeth in just two weeks", all of which I can totally get on board with.
Furthermore, a friend of mine who recently switched from a non-sonic electric toothbrush swears there's a noticeable difference since she started using her new sonic version. (I haven't seen her since she made the change, so I can't say whether she's imagining the improvement or not!)
Do you use a sonic toothbrush yourself? Would you recommend it?