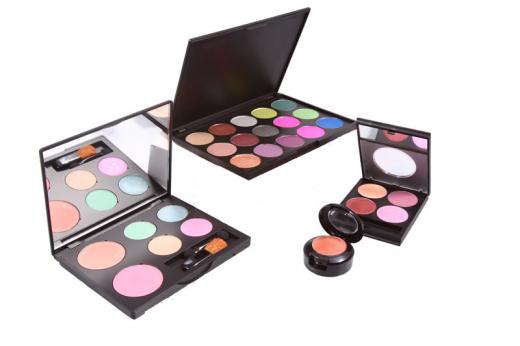 Kirstie recently did her best Tyra impression to help judge the Face of Fuschia competition, and I've been test driving some of their offerings over the last wee while. Fuschia is an all-Irish cosmetics outfit based in Drogheda who've been on the go since 2004, and are well known to local lasses for their minerrdal foundations in particular.
I love the fact that this is an Irish company, but what did I make of their make-up?
Mineral Foundation, from €35

I'm not a big fan of mineral foundation generally - my biggest complaint is that it never tends to give me enough coverage, reagardless of how buildable a brand claims it to be - so I was surprised by how well I got on with this. Even when I hadn't time to do the whole concealer shebang on the attractive red spots on my chin in advance of applying it, Fuschia's mineral foundation managed to do a superb job of disguising those nasties all on its tod.
I found it easy to blend, and it went on very evenly and lasted well giving day-long coverage that actually looked a bit dewy without the need for emergency touch-ups. Real "me, only better" stuff that enhanced rather than hid my skin - it's my new everyday no make-up make-up. I did notice that the finishing powder that you can use to set and mattify the mineral foundation caused the lines on my forehead to look positively fissure-in-the-Nevada-Desert-like after a while, but I'd no such issues when using the foundation by itself.
Advertised
Eyeshadow Palette, from €12.50

Now. I very much liked this palette but the exact one that I tried isn't on their website, and that's because you can pick and choose the colours you like best from the 62 shades on offer to fill a palette of one to fifteen pans of shadow. So you'll have to take my word for it when I tell you that it housed six shades: three greys (ideal for a lovely smokey eye) and three greens. The shadows are richly pigmented and a cinch to blend, and they lasted without creasing for hours on end despite the fact that I didn't treat them to a primer beforehand. Very nice.
Gel Eyeliner, from €12.75

This was one of the Fuschia products that really won Kirstie over, and I have to say that it similarly impressed me. I gave Chocolate a whirl, which is a rich deep, er, chocolate-y brown, and found it easier to apply and build up than any of my MAC Fluidlines. And it lasted in a similarly smudge-proof manner to the MACs all day long.
Advertised
So, that'll be a thumbs up, then...
Find your nearest Fuschia stockist here, or buy direct from the website with free shipping to Ireland and the U.K.