 Forgive me if, for the duration of this article, I stand upon my soap box and indulge in a spot of finger wagging. I just have to - the sun is turning all of our lovely, grape-like faces into raisins. By the time there are visible signs that it is doing this, the damage is often too far gone to reverse. And that's just in the vanity department. Our chances of contracting skin cancer are somewhere around the one in fifty mark. So if you can take some very simple measures to prevent both raisin-face and melanoma, why on earth wouldn't you?
It always surprises me that women will spend vast sums on moisturisers and serums, but avoid SPF entirely. Sun damage is the number one cause of premature ageing in the skin! You need to be using an SPF. Yes, EVEN in winter.
The world of the Sun Protection Factor, however, is a confusing one. How do you know which brand is best for you? And what level of protection is high enough? What's the difference between UVA and UVB rays? And why didn't we listen to Baz Luhrmann?
There are two types of SPF, physical and chemical (or a third which is a combination of both). And the answer to which one  is best for you, depends on your skin type. UVA rays age the skin, while UVB rays burn it and put us at risk of melanoma. So in order to sufficiently protect your skin, you need to use an SPF that contains both UVA and UVB protection
If you have a milky oul' Irish complexion (like mine), then you need protection on the high end of the scale. That means SPF 50. SPF can be baffling, as SPF 15 blocks 93% of UVB rays, whereas SPF 50 gives you just 5% more protection - it blocks 98% of UVB rays.
If you use a high factor, don't be lulled into complacency. If you're actually spending a day exposing your skin to serious sun (the kind that we don't get here in Ireland), then in order to sufficiently protect yourself, you need to use an entire bottle of sun cream. Yes, that's how often you need to be reapplying it. If you don't do this, then you're damaging your skin and buying an express ticket to raisinville and possibly worse. End of. Alternately, you could just come sit in the shade with me. But I'll still make you wear SPF!
It should be noted that all the products I recommend are SPF 50, for the average Irish complexion (if there is such a thing!). If you're lucky enough to be sallower, then all of the below brands offer the same or similar products with lower SPF content.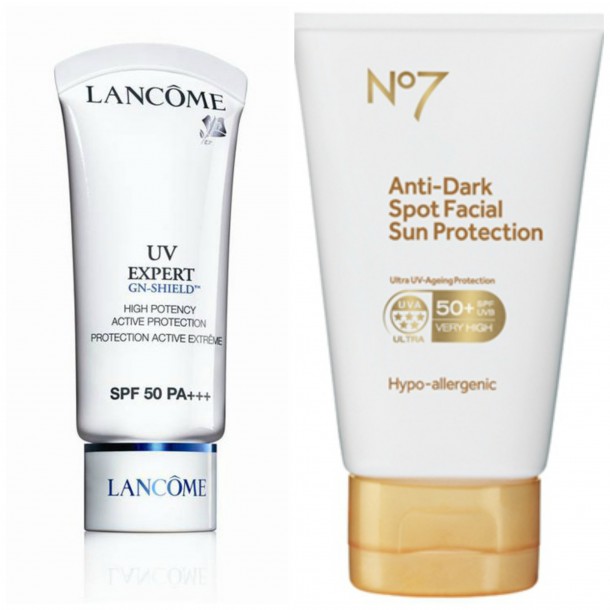 Physical sunscreens use ingredients like Titanium Dioxide or Zinc Oxide. They work by reflecting UV rays - the light literally bounces off the barrier they create. However, they can be thick in consistency and create a chalky layer on the skin. These lads are directly responsible for the flashback that causes you to have ghost face in photos. The majority of sunscreens you'll encounter are physical, so if you have a really special occasion where flash photography will capture your image for ever and ever, then avoid products containing SPF, or keep it to SPF 15 or lower. To be completely safe though, avoid SPF entirely. Just the once, mind. Finger wag.
Also, this sort of sunscreen generally contains oil-absorbing ingredients, which is helpful if your skin is oily. If you're dry, though, they can be problematic.
Some good ones are:
Lancome UV Expert GN Shield SPF 50 50ml (€37)
The primary sunscreen ingredient in this product is titanium dioxide, but it uses three sunscreen ingredients in all to achieve broad-spectrum protection. The texture and scent are very pleasing and it absorbs nicely, allowing for easy application of any makeup you want to apply on top.
Advertised
No 7 Anti-Dark Spot Facial Sun Protection SPF 50+ 50ml (€15.50)
Again, the primary ingredient here is titanium dioxide, so it's a big no no for photographs. As an everyday product for broad spectrum protection, however, it's a good and affordable option.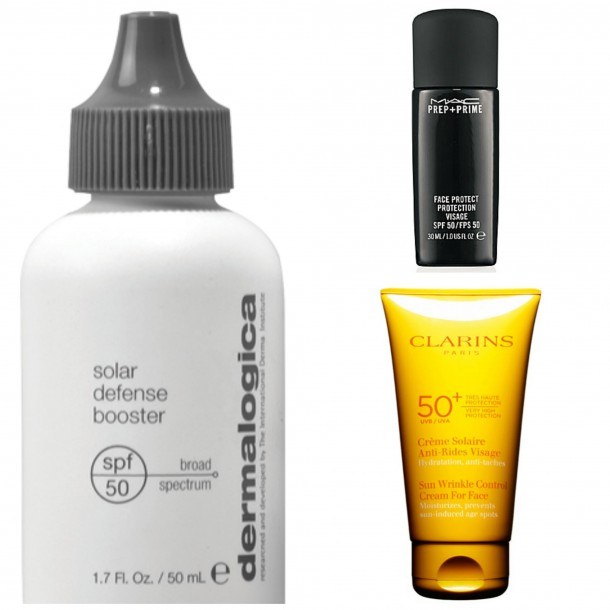 Chemical sunscreens contain ingredients which absorb light. If your skin is very sensitive, this can cause an adverse reaction from the heat released as a result of this process.
There are many chemical sunscreens, but ingredient buzzwords to look out for on packaging are oxybenzone, avobenzone and octinoxate.
Here are some options:
Dermalogica Solar Defense Booster SPF 50 50ml (€47.80)
One of two purely chemical (i.e. non-combination) sunscreens on the list, this product uses avobenzone and octinoxate to protect the skin from UV rays by absorbing them. If you dislike the thick, clogging texture of some physical sunscreens, then this might be for you.
Mac Prep + Prime Face Protect SPF 50 30ml (€31)
This combination product contains both zinc oxide, which is the physical sunscreen which offers the best protection but is the least clogging, and octinoxate  for chemical protection. This product also acts as a great primer, particularly for oilier skin - I'd recommend this one.
Clarins Sun Wrinkle Control Cream for Face Very High Protection SPF 50+ (€27)
I love this stuff - it smells nice, it doesn't clog the skin, and it offers broad-spectrum protection. Again, it contains chemical sunscreen ingredients like oxybenzone and avobenzone. It feels like moisturiser on the skin, and does contain moisturising ingredients, so this might be for you if you're concerned about protecting your dry skin.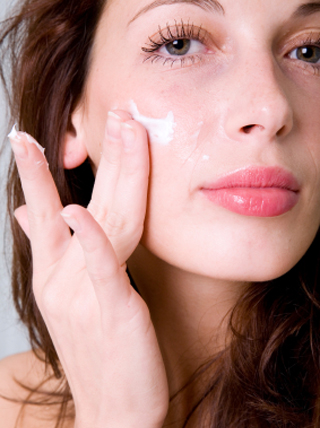 There are countless other great SPF products available at all price ranges, but you have to remember that SPF degrades, so if you're dragging the same bottle out of the bathroom cabinet every summer, then you're not protected (finger wag). If you're using a daily facial SPF, then it won't last long enough to deteriorate before you have to replace it.
Advertised
Love your face, please. You've only got the one. And share your SPF thoughts!