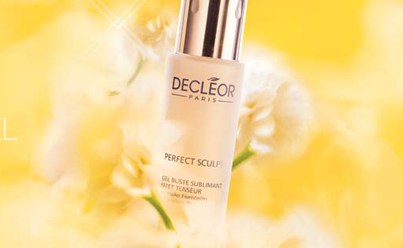 Admittedly, my French is rusty. Very rusty. So I *think* that Decleor's new Gel Buste Sublimant Effet Tensuer means that if we spend €56, we can have sublime, tense boobs. Or perhaps that's a subliminal gel-based rack? Whatever, poor French or no, I think I might buy it.
Oh hang about, I've found the translation. Ahem, what we're looking at here, ladies, is Perfect Sculpt Bust Beautifying Toning Gel. Those of you who have lamented the lack of Pout Bustier since that brand went off the market, listen up.
This here is a product with a dual function: an instant firming action is delivered, but long-term use also results in skin-perfecting, thanks to a cocktail of essential oils - a Decleor staple - and an exfoliating action, which makes the skin on the chest and breasts look renewed.
Advertised
So, if you're planning on baring all this summer, but you're a bit worried about booby droop (an altogether different beast to brewers droop), this could be the product that takes you from office to beach in the blink of an auld eye.