 Oh it's festival season alright: Glasto was a mud-based wonder, and if Evelyn Cusack has her way Oxegen might be getting a few rain showers too. But that won't daunt anyone heading down for a weekend of revelry I don't think and right about now you might be thinking about throwing a toothpaste and a spare pair of knickers into your rucksack along with your tent and sleeping bag - just to be on the safe side, you understand.
We've given you our recommendations on the site before for what to pack for a few days in a noisy field, but what do Ireland's fashion and beauty bloggers have to say on the matter? We polled a few of the gals who run some of our daily reads - and here's what they're bringing. Don't forget to leave your recommendations in a comment too!
Take it away, blogging beaut.ies!

Rosemary MacCabe
Fake eyelashes - eyeliner and mascara are a really bad idea in the rain, and if it's sunny you'll sweat it all down your face. Fake lashes will last all day and keep you looking awake - plus you can go for feathers or Swarovski lashes for some festival drama!
Other than that the only advice I have is Estee Lauder Double Wear, bronzer and SPF!
Plaits always look great too, good way of keeping hair tidy while looking cool - sadly not for uz curly girls.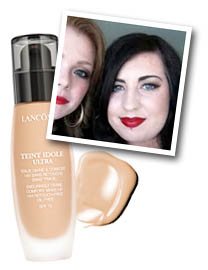 Dee
Seeing as I'm pretty paranoid about my skin and I know plenty of other girls are, I think a good tinted moisturiser or foundation with an SPF is a must.
I wore Lancome Teint Idole (SPF 10) at Electric Picnic and it really helped make me look alive!
Becky Gray
In the midst of boring must-haves such as dry shampoo, SPF and hand sanitizer it can be easy to forget that a festival is a great place to play with makeup. I always pack a bright, fun lipstick - MAC's Show Orchid is my fave - and some glitter and use that to amp up my makeup.
It's a great way to transform yourself for night without going overboard.
Angela Scanlon
With old make-up, SPF, sweat, muck and all the other elements, it'd hard not to feel, well, a bit skanky! I love MAC Fix+ skin refreshing spray for faking that just-washed-my-face feeling ... It plumps up the skin, makes tired make-up fresh and smells FAB.
I would say Batiste dry shampoo for cleaning your scraggy hair but this year I'm bringing a wig: candy floss pink or Barbie blonde - maybe both!!
Simone Gannon
I have trekked around many a festival in my time...
My number one beauty tip to save time, space and effort schlepping back and over to your tent, is bring small-ish sized multi-use products that will fit in your handbag. My three all-time favorites are:
1. Clinique Super City Sunblock which doubles up as a light tinted moisturiser and provides an SPF of 40.
2. Make Up For Ever Aqua Creams. These can be used on the eyes, lips and cheeks, the come in amazing shades, can be applied with fingers and they're waterproof, bonus!
Advertised
3. Dermalogica Full Spectrum Wipes, because well, they can be used everywhere!! Remove your makeup, wipe your hands and if you have no time to shower between bands freshen up your underarms with these babies, essential!
Emma
My top festival tip is very boring and probably betrays my advancing years but I would recommend packing a high performing vitamin supplement like Berocca Boost or Kelkin Revive, to give you a glow from the inside out.  I also pack milk thistle capsules which support the liver and can be good for hangovers, and ear-plugs to try and grab at least a few hours beauty sleep.
Make sure you're protected in the sun: one handy little product I would pack is the Anew Solar Advance eye and lip sunscreen from Avon – it has a protective eye cream at one end and a glossy coloured lip tint at the other, both with SPF 30.
Don't bring anything you'd be really upset to lose: travel size products and sample sachets are the order of the day. Obviously you need the old favourites like hand sanitiser, dry shampoo and baby wipes to at least maintain the illusion of hygiene but, failing that, disguise and distract from the grime by loading on the accessories by the handful and embracing bright colours and glitter galore.
Leanne Woodfull
My number one beauty tip is bring an extra bottle of water with you, for the sole purpose of being able to wash your hair!
Bring a one litre bottle and a sachet of shampoo from a magazine or hotel bottle of shampoo. Tip your head over on the grass, and wash away! Who needs to have dirty hair for days like? Ew!

Aisling Keenan
Something I swear by at festivals is false lashes. Instant glam and something that will never need to be topped up, AND you can get away with dramatic ones under the guise of a wild festival goddess.
Apart from that, I'd say get something pretty and unique like a pixilated heart painted on your face - festivals are the only place you'll get away with it and it'll distract from the fact that the rest of your make-up is melting away.
Aideen Finnegan
We are seasoned festival-goers at What Will I Wear Today so here are our tips (plural in case there's some overlap with the other answers you get! Obviously piles of baby wipes and 8-hour cream are a given yeah?)
1. Keep your make-up simple. You'll never bother putting on a full face after the first day and your fingers will be manky anyway! So tinted moisturiser, cream blush (doubles up as lip colour), waterproof mascara and budge-proof eyeliner. Don't forget the SPF (here's hoping!)
2. Get some false lashes done before you go, paint your talons because your fingernails will get filthy and for the love of God don't forget the Batiste. Three cans of it cos your friends will end up scabbing off you!
3. All that alcohol-sanitising (and drinking!) may dry out your hands, so best bring some handcream. Maybe Elizabeth Arden 8-hour cream cos that can be used on lips, face, elbows and a whole bunch of other areas really.
Dawn Hill
OK, I know the usual suspects are dry shampoo, SPF and baby wipes and of course they're important, but I think a certain two makeup products can do wonders for your look when you've been sleeping in a hot and stuffy, smelly tent for the night or, when you've been dancing around a muddy field like a mad thing all night with NO sleep at all!
One of them is Rimmel's Perfect Match two-in-one eye concealer and highlighter! It holds a gold place in my makeup stash as it's fantastic for covering dark circles and bags whilst highlighting the area for an effective bright eyed look. The best thing of all is that is CHEAP, so if it gets lost in the tent as many a beauty product has, never to be seen again, at around €7 it ain't going to break the bank.
Advertised
The other is Benefit Poisetint. Just a few dabs on the cheeks makes my complexion look fresher in an instant. So the Poisetint coupled with the Perfect Match Concealer, you'll look like you've had the best night sleep and squeezed in a jog around the fields before another day of partying. Easy!
What are your top inclusions for beauty at a festival? Ireland's fashion and beauty bloggers have had their spake - so head to the comments to have yours!