 "Get ready for an enchanted evening that just won't stop. Play it cool this holiday with eyes in deep smoky hues, and lips that boldly lead the way for a night of unexpected thrills. Jazz it up with new Colourdrenched Pigment in pearlized, creamy hues. The magic is in the night, darlings. Let's have some fun."
Well that's what Mac says and I definitely had that aforementioned fun when I thought about what looks I would like to create with products from their new Magic of the Night collection.
Now I'll be back in the next few days with a full look at the products in the collection but I got so excited when I saw their Tonight's The Night eye shadow that I had to show you a quick look that would be absolutely perfect for the weekend. It's sparkly enough to say winter but not glittery in a 'LOOK-AT-ME-I'M-FEELING-FESTIVE' way.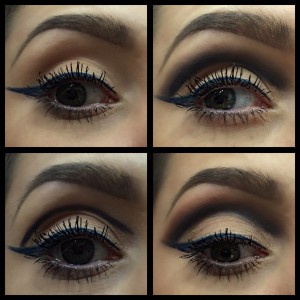 Step 1: 
First off, I lined my eye with one of the fluidline pens which also launch today on the MAC counter. I opted for Indelibly Blue and if you are looking for any tips on how to do the perfect winged eye, check out our video tutorial here.
Step 2: 
Using Black eye shadow in Carbon, I drew out a curve just above my socket line, ending at my wing liner.
Step 3: 
With a clean fluffy brush, I blended it out towards the brow, not down towards the lash line.
Step 4: 
I then added my "transition" colour, which I'm sure you have heard me speak of before. The helps blend the dark tone out in to the skin  enabling it to look seamless and air brushed.
Advertised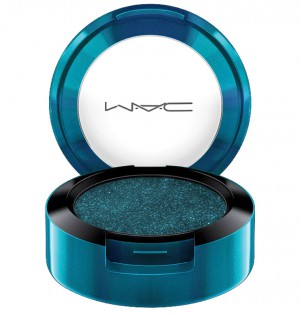 After that it was time for the Best Bit. I got ready to add the 'Tonight's The Night' colour, see above.
Blue can be a difficult one to wear but this Colourdrenched Pigment is actually surprisingly easy to wear.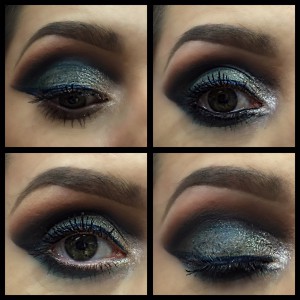 Step 5: 
With the silver pigment, highlight the tear duct, next apply your blue shadow (Tonight's the Night) to the lid.
Step 6:
With a black kohl pencil, line under the lower lash line and blend it out with the blue shadow.
Step 7:
Line water line with black pencil to finish.
Advertised
There you have it! Why not give it a go yourself at home, and let me know how you get on? If you are having any particular struggles, comment below and I can help you out.