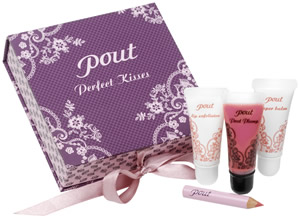 Valentines n' kissin' are synonymous, aren't they? Such a shame then that Valentines Day falls slap bang in the middle of cold, blustery weather each year, because those sort of conditions are not conducive to a pretty pouty pucker, oh no no no.
What to do? Pout have come up with a timely new product, sing hosannas. It's called Perfect Kisses and it promises to "give your lips the love they deserve". It's a four step kit in a gorgeous little be-ribboned box that contains their new lip exfoliator made with sugar granules to smooth and soften lips, a Super Balm, packed with vitamins, honey and mango seed oil to nourish and moisturise, a natural lip liner to define your kisser, and Pout Plump Bubblegum for a glossy, voluptuous and very sexy pout.
Well gals, if your lips aren't the height of seduction after all that, then there's simply no hope for you!
Advertised
Buy the kit from Pout, or BT and BT2 branches nationwide. It should cost about €30.