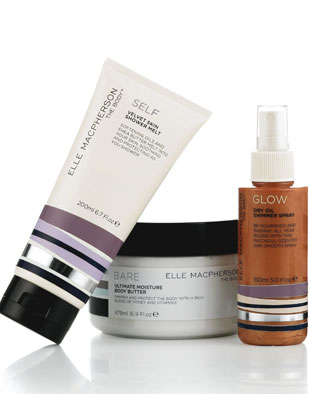 Known the world over simply as "The Body", yer woman Elle MacPherson has gone and created a whole range of bath and body products called, er, The Body Collection, which are available exclu-hoosively from Boots. There are three distinct families within The Body range: Bare (citrus scented everyday essentials), Self (lavender scented indulgent bathing bits), and Glow (patchouli scented glow-givers for Going Out.)
I've been giving an enormous 475ml tub of the Shimmer Créme from the Glow collection a whirl and the stuff is very nice indeedy - lightly scented and absolutely packed with teeny tiny gold shimmer particles. It's ideal for this time of the year when you're probably not arsed with any of that fake tan or gradual tan business but wouldn't be adverse to your hide looking a bit less pasty than its natural state. Slapping on some of this moisturiser will leave skin looking iridescent and candle-lit and lovely for winter without any of the hassle of tanning.
Advertised
Nice one!
Get Beaut.ie Delivered
Stay updated with Beaut.ie newsletters full of the latest happenings at Beaut.ie as well as great offers and things we think you might find interesting .