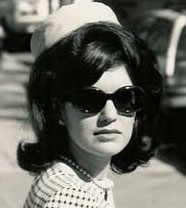 I love 60's hair. In fact, I'll let you in on a little secret - I love big hair. I'm not a fan of poker straight locks - I like it big and somewhat pouffy. Now I'm not advocating a Dolly Parton 'do or anything frosted and frizzy, but big sleek thick hairstyles a la Jackie O and Diana Ross in her Supremes period, slightly backcombed on the crown and topped with hairbands or fab little hats - yup, that's a look I like a lot. Thick straight fringes and flipped ends - oh yum! Basically, if it's got volume, I'm loving it.
And it just so happens that this is the hair we're seeing in Dreamgirls, Beyonce's new film. Perfect timing for me to indulge my love of big. I also got my hair cut the other day and was chatting to my hairdresser about what I wanted. I explained I didn't want it blow dried poker straight and she suggested adding some rollers for extra volume - I immediately agreed. Oh yeah!
She rolled up about 5 or 6 thick sections on the top of my head into wondrous big fat velcro rollers, spritzed on some hairspray and left it to set for a few minutes. She came back, removed the rollers and voila! I had a 60's do! V pleased was I.
So I decided I needed to get some rollers so I could indulge this look at home. Now, I knew I'd need big rollers - I didn't want corkscrew curls, just gentle shiny looking waves to add volume, and that requires quite a prodigious circumference.
Advertised
A quick search in Boots turned up a set of nice fat thermo rollers which cost me €9.45 for four. I will be testing these out at the weekend and will report my findings!