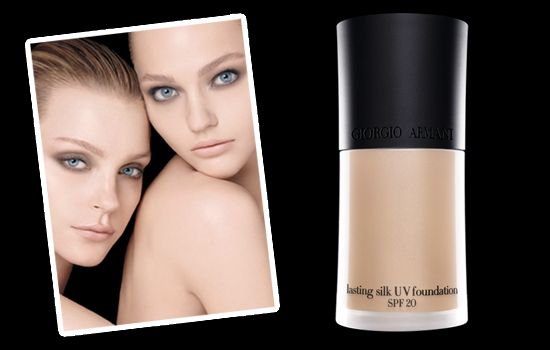 In the summer, we brought you news of a forthcoming launch from Giorgio Armani. Lots of you had lamented the demise of their Hydra Glow foundation, and this new boyo, Lasting Silk UV Foundation was slotted in to take its place.  The beauty grapevine was awash with the info that Hydra Glow just didn't last (an issue I'd have with Luminous Silk too) and apparently there were some oxidisation issues with it as well - basically it changed colour over the course of the day.
Glowy foundations sound really great on paper. Sheer, dewy, pretty coverage is promised, and for anyone with a normal-to-dry or more mature skintype, that just sounds excellent. Except it's kind of hard to ensure all that plus longevity, and that for me, was where Hydra Glow fell down. It just disappeared off my skin.
But like everything, foundation technology improves and Giorgio Armani have a winner in Lasting Silk UV Foundation. It's been on counter since early September and costs €42. Of the eight shades, I was sent three to trial. 4, 5.5 and 7 all landed on my doorstep (check the original post for the full shade listing) and I could immediately see 7 was way too dark. For my generally-on-the-second-palest-shade-offering skin, two pumps of 4 and one of 5.5 made a perfect match for me, so when I go to buy it again, I reckon I'll try a 4.5.
But what's it like? GORGEOUS.
Advertised
You might remember me bitching about the price of Dior's Diorskin Nude a couple of months ago, and how I got it far cheaper in Heathrow. Well, here's something else on that score: I haven't opened that bottle, because I fell in love with this.
The finish is quite sheer, true, but I find I'm happier to wear lower coverage base recently because the new launches have been so good that they genuinely work to even out skin while giving you a modicum of coverage. Set with a small dusting of powder, it lasts on my skin too, and looks incredibly natural with a slight dewiness that's lovely. It doesn't settle into fine lines and I'm finding Lasting Silk is as good for day as it is for night.
This is probably not one for ladies with oliy skin or anyone who has a lot of camouflaging to do. For me, dabs of concealer at the sides of my eyes and on my cheeks if they're looking particularly ruddy, plus the aforementioned three pumps (less if I apply with fingers) is enough for me to feel made up without being caked, and I think this is a sure-fire keeper.