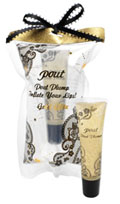 A product to pucker up your kisser and sprinkle it liberally with glitter? SOLD.
What could it be? It's Pout Plump Gold Glitz! Not only does it look all gorgeous, glittery and glossy, it also has a plumping action to make the most of your lips. So if you're less than chuffed with what God gave you, this will be the chicken fillet booster your lips were crying out for.
It would look great on its own with dramatic eyes, but I think the way I'd wear it, especially for evening, would be to slick it on over red or plum lips - and vamp up the eyes too. It's everything AND the kitchen sink for me, people.
Advertised
You can buy this online for £16 or from Brown Thomas and BT2 stores, and it'll cost you €25 (I think, my memory is a bit hazy on this point).