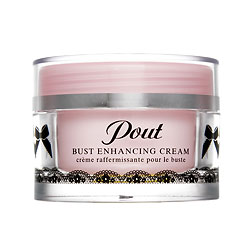 Pout Bustier scored top marks in the How To Look Good Naked firming cream tests a couple of months ago. Of course this created tremendous demand for it. It sold out everywhere. And what we can't get we want even more. In this way bust creams seem to be a little bit like men don't they?
The blurb coyly tells us:
"The subtle shimmer intensifies the appearance of your natural curves making your cleavage look fuller and feel irresistible. A unique blend of rose, geranium and ylang ylang provide an aphrodisiac scent to arouse the senses...for a truly uplifting experience!"
Woohoo! But what is it REALLY like? As in what does a Beaut.ie make of it? Unable to purchase it on Hqhair (sold out), Star, undeterred, visited her nearest BTs to score some of the prized product. The girl at the counter told her to "apply using light gentle strokes from under the bust and work upwards towards the collar bone. You should use twice a day for 28 days to see the results" and that it can also "be used to tone up the thighs and bum area". Star thought that as "the jar is only 50mls and costs €34 it would be expensive enough if you were to use it all over.
Advertised
Star put Pout Bustier through its paces. "I have been using it once a day for around three weeks and I can see a big difference. My bust is small enough but it has definitely firmed and lifted. So much so that I would now feel comfortable wearing a top without a bra! If I had used it twice a day every day there would be a much bigger difference, so now I have started using it every day. The smell from it is only divine. The first time I used it was just before going to bed and it was like sleeping in rose petals. The jar is soooo cute!
"It is definitely one of the best purchases I've made in ages and I will be purchasing it again."
So it smells great - it looks great - and it works. High praise! Thanks Star!