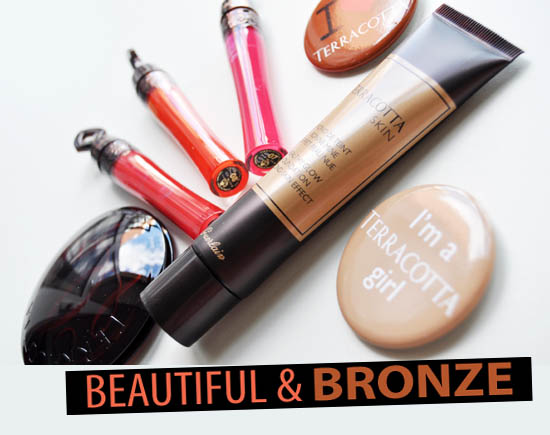 It wouldn't be a thunder and lightning and rivers of water down the middle of the road (or was that just my street?) kind of spring without a Guerlain Terracotta launch. As reliable as the fact we'll get no summer to speak of, every 12 months this French brand releases a bronzing collection you could set your watch by.
This year's is on counter now and contains the old staples for blondes and brunettes like silky-smooth powders and some other fancy gubbins that are new for this season.
(psst: ignore those juicy glosses, they are from the summer Terra Inca lineup, which we'll take a look at later this week)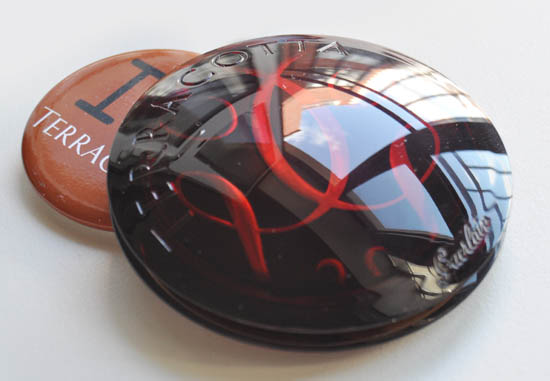 Two new shades of Terracotta Bronzing Powder come on board this year to bring the complement up to eight and they come in three shade ranges: blondes (which contains three pink-toned powders), brunettes (which contains four golden-toned powders) and dark skin (one reddened copper).  Like everything Guerlain does, packaging is almost as important as what's inside. This year's compacts are typically lovely.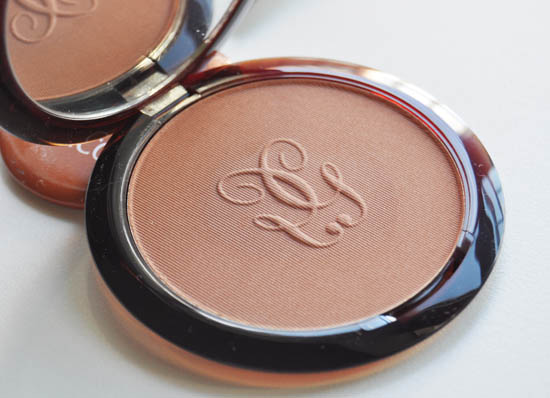 Here's the shade I got as a sample - this is blondes 02, so the second, or middle shade in that particular suite. These powders are lightly scented - it's a kinda old-fashioned powdery lady fragrance. These are mostly matte with a very very slight bit of shimmer which gives the finish a lift but there is no annoying glitter.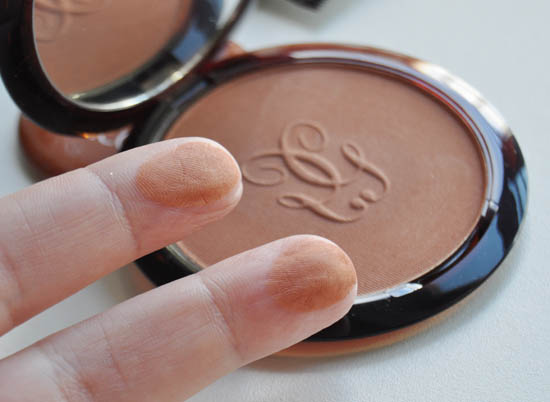 As you'd want and expect, the payoff is sheer, the texture is very fine and silky and Guerlain powders always feel lovely to the touch. Hand on heart, bronzer would be one of my least fave beauty bits and while I can appreciate these on their merits, this doesn't set my cosmetic-loving heart on fire. The shade is too dark for me as well and I would think 01 would be a better bet for those three times I year I decide I need a bit more colour.  However, if you have the €44 spare you'll need for one of these, love bronzer, want one to flatter your skintone and demand an excellent quality product - definitely drop by a Guerlain counter.  I think it's a great go-to for elegant colour.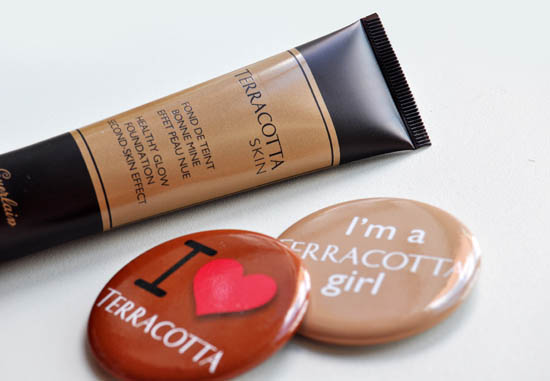 Advertised
The other product I got to sample from Terracotta is this Terracotta Skin Healthy Glow Foundation, €44. Designed to give a "second skin effect," it's heavy on the silicone so has tons of slip and spreads like a dream. Available in two shades, 01 blondes and 02 brunettes, this is a hybrid cream-to-powder formulation that does that great pore-refining thing silicone primers do while imparting a veil of colour to the skin as well.
So if you can get one to match the rest of your tan (faked or otherwise) and you're having a good skin day, this could be a really good holiday pick for a quick basic daily face. Silicones help tamp down shine too, another hot weather requirement.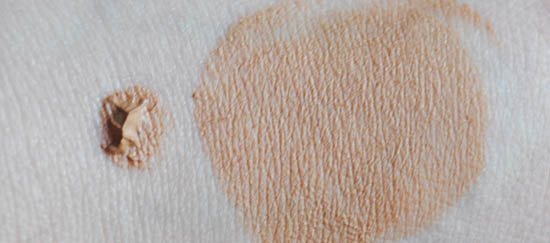 This is 02 brunettes and it's again too dark for me, I'm off to Portugal in June so would be interested in seeing what 01 is like on my pale mush. I have only lightly spread it here on my hand - you would be able to blend it out a whole lot more on the face. It's an interesting product, the downside is trying to match your face to the rest of your body, I imagine. And of course, if you don't get on with 'cones, then it's a no-go.
Teracotta Jambes de Gazelle Cooling Bronzing Mist, €50 (that's it there in the middle), nails the trend for skin finishing.  A spray on bronzer which gives an instant glow, this is wash-off but it also contains a tan booster, so it's the sort of thing you could use over sunscreen on holidays for the first few days to get some colour up safely.  Scented with Tiare flower fragrance, it also has skincare benefits.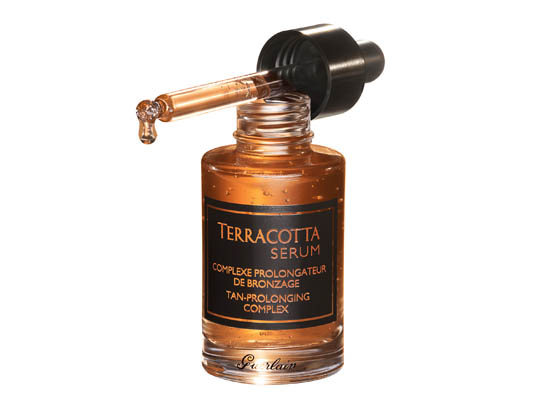 Last up is another interesting bit: Terracotta Serum, €50, contains a ramped up amount of the previously-mentioned tan booster. 30 times more, in fact. Designed to stimulate the natural production of melanin in the skin to trigger the natural tanning process, sunlight activates it.
So a warning - while you could of course use this solo, remember that tan is damage. The most sensible way to use this would be to mix it with a high factor SPF. That way you are protecting your skin while giving it some opportunity to get a colour safely.
You don't need much either - two drops mixed into face cream suffices and four into body products will do the trick.  It's a really interesting idea and it's one we've seen before but it should be approached with caution, especially if you're very pale and don't take a tan easily or well.
Advertised
So, what do you think of this year's Terracotta lineup? Anything floating your bronzing boat?