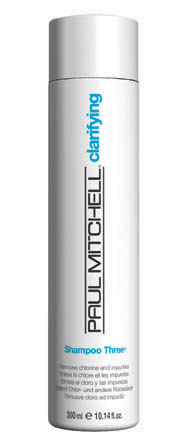 While having my Moroccanoil treatment in Zeba the other week, I decided to stick salon owner Angie for a bit of free hair advice.
In between chatting about my recent highlighting disaster, whether or not I should get a fringe cut back in, bring the layers up, or go for the all-out chop, myself and Angie got talking about the problem of hard water hair, which is an issue that crops up a fair bit here on Beaut.ie.
Well, Angie reckons that your only man for this job is Paul Mitchell Shampoo Three, €6.96. It's a clarifying shampoo that's suitable for use on all hair types, including coloured and highlighted locks. Good for swimmers since it removes chlorine from hair, those in hard water areas need only use it a maximum of once every three weeks to deep cleanse and get rid of dulling mineral deposits and build up from hair.
Advertised
Easy peasy!