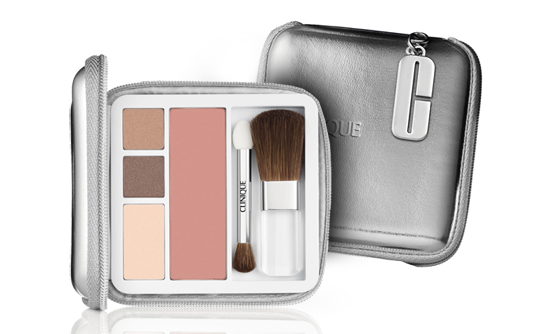 We've been in a holiday mood recently: reader Dewy is heading off to Cuba and she's been soliciting expert advice from other Beaut.ies on packing decisions. Over on the forums, Fluttergirlie has been similarly preoccupied.
Both of them got me thinking, and makeup-wise, if I was heading off for a jaunt right now, I know what I'd take: Clinique's new Most-Wanted Colour Compact. It's a spend at €50, and it's limited edition, so if you want it, bag it now.
But it's absolutely ideal for a holiday, with good pigmentation and a nice shimmery finish from the shadows.  This, some tinted moisturiser, mascara and maybe a bright eye liner or shadow for night would be all you'd need for a capsule beauty collection.
Advertised
The case is padded, so it's perfect for travelling, and it's also really rather glam: silver and zippy, it contains three eye shades and a blusher, plus a mirror that's definitely big enough to do your makeup in.