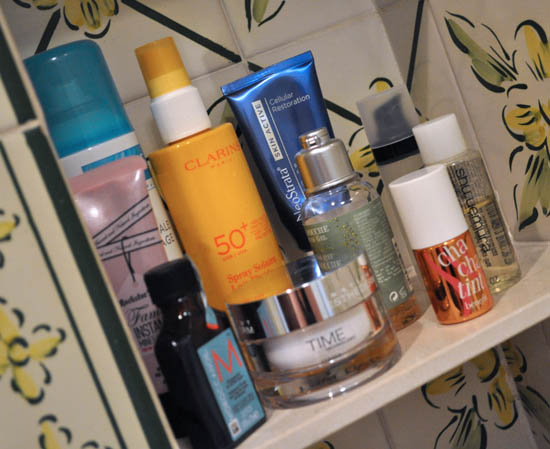 Why how timely, I thought, as I clocked that Lynnie had written a post all about travel beauty for today when I struggled home from the airport at midnight last night. Because I had a complimentary post created inside my head all about what I just packed for a few hot days on the Algarve to follow and er ...
I haven't had time to write anything else so yizzers had better be in a trip-tastic mood this AM. Doubly so, because as you read this I'm actually on a train to Cork on a mission of great Claude importance.
Yep, you read that right.
No, no more deets on that for now - but it'll be good!
So, lets take a recce at what I took away for skin, hair and body. It was hot, I'd knew I'd have to bare some flesh (aaiiee) and I hate fake tan but needed some quick camo as well as shampoo, scent, and the other bits and bobs you've got to pack for a hot weather jaunt. I do try do make sure that some of the stuff I take can be used for more than one purpose too, so check the explanations below for more on that.
Advertised
Above is shelf one, and the back row from left to right and then moving forward is:
Uriage Eau Thermale D'Uriage. This is a water spray and can be used to cool down a sweaty post-sunbathing face but I also use it, as per xgirl's instructions, post-cleanse, before I apply my night oil. The oil 'sucks' into the pores as the water dries, and absorbs better
I've used this Clarins 50+ Spray Solaire before and really like it. Suncare needs to be occlusive to stay on your skin which is why it can be unpleasantly tacky, but this is a nice product to use. It smells great, blends and sinks in well and protects excellently, plus, it can be used on the face. It, along with the other two SPFs I brought will be getting a post of their own shortly with more in-depth review-style shenanigans and pricing etc
Next up is one we looked at last week - this is NeoStrata Skin Active Cellular Restoration and it's a first-step skincare product I use before moisturiser. Actually, it was so warm I didn't use it when I was away as it would have just melted right back off!
Rockstar Tan's Fame is a new skin finishing product that's captured the trend perfectly. This is just a sample size but you can get a big size of it as well. It was one of three instant-colour tanning products I took to take the bare look off white legs (my legs never, ever take a tan for some reason) and it was absolutely the best. Again, there's a post coming on the three and how they compare. This is the only sort of fake tan product I like - schlap it on, there's an instant result, no stink and you can wash it off when you want. Proper order
Beside it is a new-to-me moisturiser I've been using for a week or so. It's by Institut Esthederm and it's called Time Technology Creme. Nice scent, nice absorption but this is a little thin so I'm not sure yet if it's going to be enough for my skin, which normally likes butter-type textures. Time (geddit?) will tell
Beside that is a small L'Occitane shower gel in Delicious Almond. I have three of these and they're 75ml each - I always take them with me when  I travel as opposed to a big bottle
Next up is Gosh Velvet Touch Foundation Primer  and there are two reasons for its inclusion. One, the obvious, it helps keep makeup in place for longer, something that's a bigger issue in the heat. But number two, unless you're very slim and possessed of thighs that don't meet in the middle (deep breath -  here goes) you may have experienced a little chafing in hot weather. This stops that happening. And this is also the reason why you can use Lanacane anti-chafing gel as a facial primer
Didn't think there was much point in me elaborating on the last two!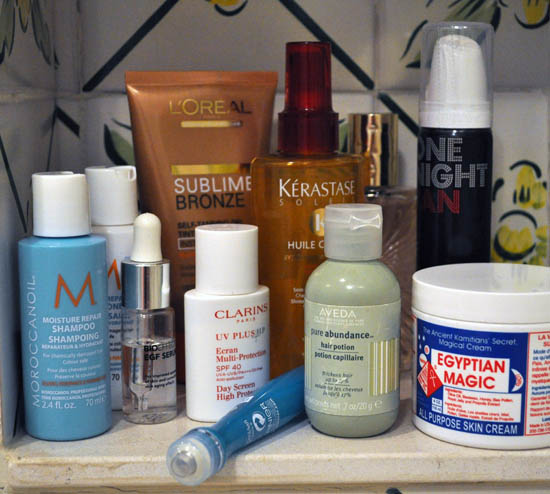 I love Moroccanoil shampoo and conditioner and take the minis away with me when I travel. Bonus? I'll shave my legs with the conditioner too
L'Oreal Paris Sublime Bronze Self Tanning Gel Tinted and Shimmering Instant Result was the second of the three instant tanners I tried. This was for fair skin - I think I'd have fared better with a darker version but again, full review and comparison to come
Kerastase Huile Celeste is one of the brand's lovely summer products and is a leave-in oil/shimmer that's designed to protect sun-exposed hair. I actually wore a big floppy hat when out in the sun so didn't get a chance to trial this one. Ah well!
Hiding is YSL's newest fragrance Saharienne. Loving this. It's citrussy, summery and pretty perfect for hot weather. Nicely old-fashioned packaging too
Model Co's One Night Stand was the third of the instant skin-finishing tanners I packed. It differed from the others in that it's a mousse and I felt I really needed a mitt for this - which of course I had neglected to pack. Gah
In front we have BioEffect EGF Serum. I had put this away for winter time but because it is so wee, thought it'd be good to pack for the few days away. What can I say? Still lovin' all over its expensive ass
Clarins UV Plus HP SPF40 did not find favour with Lynnie, but me, with a drier skintype, gets along great with it. I am happy to slap this all over my mush, and it causes me no problems what so ever. No spots or irritation, just great protection and no ghostly-looking visage
Garnier's Pure Active Spot Roll on is the newly bikini-waxed/shaved gals best friend. We've taken a look at its multifunctional ways before and because it contains salicylic acid, it'll zap ingrown hairs as well as it'll tamp down zitty eruptions. A really good product to have with you on holidays
Aveda Pure Abundance Potion is another two-for-one jobbie. it soaks up grease so you can go an extra day without a hairwash, and it adds volume and texture to hair too, so you can style freshly-washed gruaig right away
Lastly, Egyptian Magic. We were pretty scandalised at the price of this stuff the other week but I reckoned it might be a good hot weather holiday bet. Soothing ingredients would calm red skin and it'd also act as a body moisturiser, was my rationale for taking it. Yep, it does both jobs very nicely (I got very pink shoulders one day and this soothed them very well), plus it adds a gloss to legs and arms that's nice at night
Advertised
So, that's my lot. I was only abroad for four days and I'm no hot weather veteran - I tend to go on city-based breaks mostly. So I know you lot will have some stellar product recommendations for beach and resort-based holidays - leave 'em in the comments and lets talk fortnight in the sun beauty.