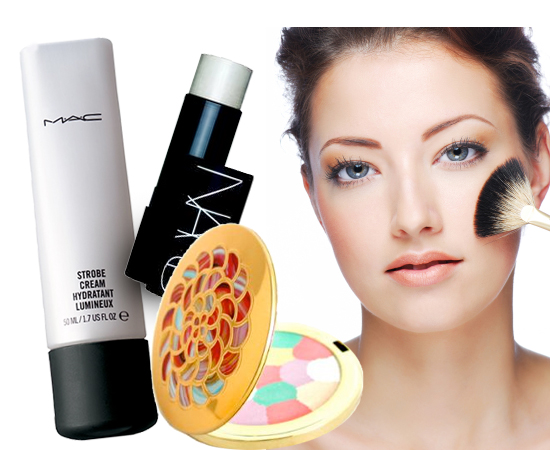 Highlighting products, in the various forms available, can be a godsend when you need a bit of glow, but they can also be hard to get the hang of. Apply to much and you risk doing the robot, but applied in the right places and in the right amounts, they can totally lift your look - illuminating your skin, defining your bone structure and enhancing your features. Here are a few tips on how to use:
Where do I apply it?
If you're doubtful about where exactly to place your highlighting product, don't go crazy and just brush it all over. Take a look in the mirror in good lighting and focus on the areas light naturally reflects off. These are the raised areas of the face, such as the browbone, the cheekbone and the bridge of your nose.
Take the product down in a C-shape from the top of your forehead, down the browbone at the outside of your eye and down the top of the cheekbone. Then apply highlighter very lightly across the bridge of the nose. Apply a small amount just underneath your eyebrows to really open your eyes up. Finish by applying a dab to the area just above your cupid's bow, which has the effect of making your lips seem fuller.
How do I apply it?
Advertised
There are a number of different types of highlighters available, from liquids to powders and creams to sticks. Powders are best for combination or oily skintypes, whiles creams and liquids work well for dry skintypes.
Use a fluffy powder or blush brush to gently blend a powder highlighter on your skin. Try a smaller brush with short, stiff bristles to blend cream or stick highlighter onto smaller areas of the face. Liquid products can be applied and blended with your fingertips or a damp makeup sponge, but a useful tip I recently picked up was to try using a fluffy brush to help blend them out across the skin. It's not something I would usually think of with liquid products, but it works really well.
What should I avoid doing?
Less is always more when it comes to highlighter, so take it easy to begin with - you can always build up your application if you need to, but you can't go backwards once it has been applied and you realise you look like a glitterball.
Speaking of glitter, when you're looking for a highlighter, go for something with very fine shimmer particles. The finer they are, the more natural the highlighter will look - instead of looking glittery on your skin, the light reflects off the highlighter area and gives a natural glow.