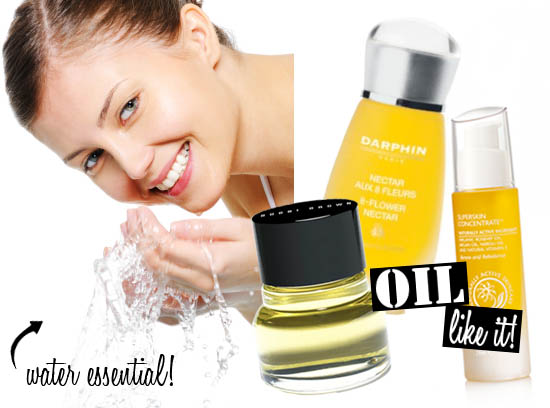 Along with many others here, I'm a big fan of using oils as skin treatments, for both the face and body. As many people find, however, oils can be harder to work with than lotions or creams. They can be difficult to apply and slow to sink into the skin after applications. It's worth a bit of experimentation to find the right oil for your skin and the right method of application, however, so I bring you my one very simple top tip when applying oil to the skin - use water!
Water has two benefits when applying oils to the skin: firstly it helps the oil to penetrate the skin (oil applied to dry skin will coat the skin but won't sink in) and secondly the oil will lock the water into the skin, helping to increase hydration of the upper levels. It is also much easier to apply oil to damp skin - you will find you need much less oil than you would on dry skin and it will spread easily on contact with damp skin.
For body oils, the easiest method is to apply directly after showering. While still standing in the shower, sweep most of the heavy moisture from your skin with your hands and then massage the oil in (try oils from Palmer's and Trilogy). If your skin still feels damp after application, blot dry gently with a towel to avoid removing any oil remaining on the surface.
Advertised
For facial oils (we love Trilogy and Clarins), apply the oil after cleansing and while your skin is warm (use warm water to remove cleanser - either to rinse it off or to remove it with a muslin). After cleansing, use a facial water spray such as those made by La Roche-Posay, Avene, Vichy or Caudalie.
The very fine mist of water left on the skin by such products is an ideal base for applying oil as you won't have a heavy layer of water on the skin, but the skin is evenly covered and stays damp long enough for you to apply your oil - I find this method much better than a toner applied with cotton wool, for example. Apply the oil right away, while the skin surface is still damp.