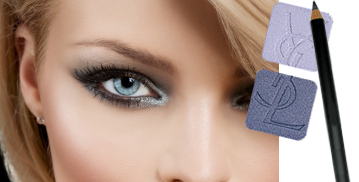 You got my run-down of the steps to take to get a great flawless base earlier, and once that's in place, it's time to start whacking on the eyeshadow to complete the smokey eye look. I got my lessons in smokey eyes from Ken Boylan at Boylan and Balfe, and if you'd like to do a day beauty course, he's the guy to show you the ropes.
Deciding against black, instead I went for a deep navy - bit easier to wear and a little more flattering too. Out came a YSL Ombres Duolumieres shadow duo in a navy/lilac combo. I like YSL shadows - soft, highly pigmented, they're really easy to work with. But before I began with that, I lined my top and bottom lids with a MAC pencil in Indigo, a deep navy blue. This acts as a key for shadow, and you should use a thicker line above than below.  Smudge both with your fingers. With a shadow brush (like MAC's 213 fluff),  apply shadow about 3/4 of the way up the top lid - you need to leave space to blend; and smokey eyes shouldn't go above the crease of the eye. With a smaller tool like MAC's 219 pencil brush, apply shadow all along the bottom lid too. Blend on the top with a blending brush - and don't spare your time - this needs to look smooth and flawless. On the bottom, get a Q-tip and smudge into a softer line.
Stand back now and see how you're looking. Your blending might have moved shadow about a bit, so you may need to darken above the upper lashline again, or one eye might need a little more attention than the other.  At this point, you're nearly done - all that remains is for you to get back out the pencil again, and line the inner part of your bottom lid. Yuck, I know, but persevere. I line the whole way to the inner corner of the eye, so the smokey look 'joins up'. To keep that liner in place longer, go over it using shadow and a small brush.
Advertised
Last steps? I took a small amount of the lilac from the YSL palette and dabbed it onto the inner corner, to brighten up what can be a dark spot. I then applied lashings and lashings of mascara, a dot of pink blush, a swoop of Kevyn Aucoin's The Celestial Powder on brow, cheek, nose and chin, and finished off with a nude gloss.