 Like the majority of us (Calvin Harris being the possible exception), I look at clothes and makeup from the 80s and think that was NOT acceptable, even then. Each decade has a look of its own (though many of them are cyclical. For example, 90s brown/reds is now reclassified as Marsala and is the Pantone colour of the year).
And I suppose that the noughties and the early whatever-decade-we're-in-now will be known for long hair tonged into curls from shoulder length, false eyelashes and smokey eyes created from a palette that ranges from light brown to medium brown to dark brown.
Now I like brown. And I like tonged curls. But there is a space in my life for colours, dark navys, shimmering gunmetal greys and soft aubergines.
Can someone turn the colour light back on please?

Fear not, YSL are manning the sophisticated colour light switch and their ten-shade Couture Variation palettes is bringing out the toned-down Rainbow Brite in me (as is only fitting, I am over the age of seven).
The Couture Variation Nº2 Palette Tuxedo is possibly the only non-nude palette you will ever need. From ivory to black via plums, midnight blues, iridescent dove greys and soft bronzes, I'm hiding this so that no one in the office will ever see it. I'll sit on it if I have to.
Advertised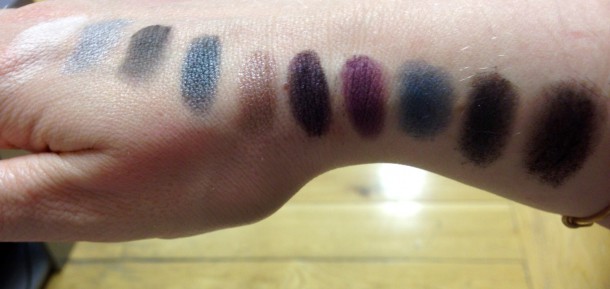 I've swatched them here with the lightest of touches - the force pigment is strong with this one.
If however you simply will not be parted from your nudey-ness, they have also released Couture Variation Palette Nº1 Nu, which is a collection of beiges, bronzes and deep browns.

These are on counters now, with the Couture Variation Nº2 Palette Tuxedo being exclusive to Debenhams. One of these precious palettes will set you back €58. And if you'd like to see more reviews, tip ands tricks fro SS15, we've them all right here!
Advertised
*ambles off with Couture Variation Nº2 Palette Tuxedo with a Gollum-like gait*
Have you tried either of these new YSL Couture Variation palettes? Are you a brown eyed girl or ready for a colour injection? To the comments!