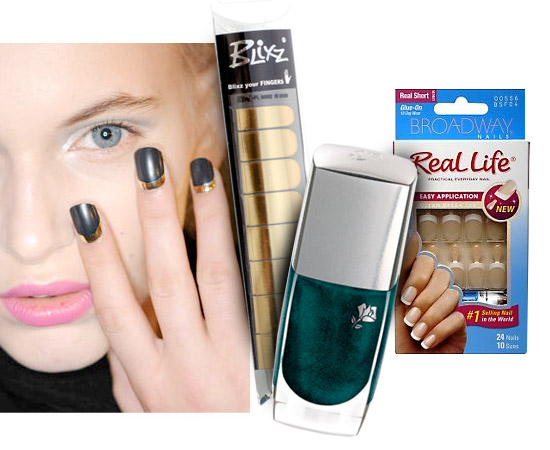 Remember those fab nails Lynnie posted about last week, from the Ruffian show at New York Fashion Week? Created by the CND team, so spectacular were they that lots of you were agog to know how they were done. From looking at a video of how they were made, it's obvious these babies weren't done on the hand, but pre-prepared using stick-ons and then applied.
There's no way you'll get a mirror-like shine using polish, so it seems that something Minx-alike was used to get a proper metallic finish. It's a pro product so I'd suggest Blixz, a line of at-home metallic self-adhesive stick-ons that are a Minx/Incoco hybrid. They come in billions of patterns and cost €8.95 from The Beauty Shop, a German site. You may need a bit of the auld Deutsche Heute to navigate, but these yokes are a bit of a must-have to get this look right.
The dark polish is, as Lynnie said, CND's Inkwell, which you should be able to find at salons nationwide, but Lancome's Pop Petrol, €20.50, is actually a pretty good dupe, and on the hand not anything like as teal as it appears above.
Advertised
So, what do you need to do?

Take yourself off to the chemist and buy a pack of Broadway nails, as these'll form the basis of the look. Hold them to your nails to see which ones will work for you, and set them aside.
Now do the same with your Blixz transfers, which come in lots of widths to fit different nail sizes. Apply the correctly-sized ones over the matching Broadways, as per the instructions on the pack, press and smooth into place and trim to fit at the top. I read about these over on Cosmetic Candy recently and it seems they may not apply as well as Incoco does, so take a tip out of the Minx book and use some heat to make them a bit more pliable. A blast from your hairdryer ought to do the trick.
That's your shiny base done, now you need to apply your dark polish. You'll need a steady hand, and make sure you're definitely painting them the right way around, remembering to keep the metallic portion to the bottom. Two coats of dark polish should do the job.
The CND team topped the lot off with Super Matte, a mattifying topcoat, you could go for a super-shiny one either if you preferred.
Now stick the whole shootin' gallery onto your nails and stand back and admire your handiwork!
Whaddya reckon? Will you give it a go?