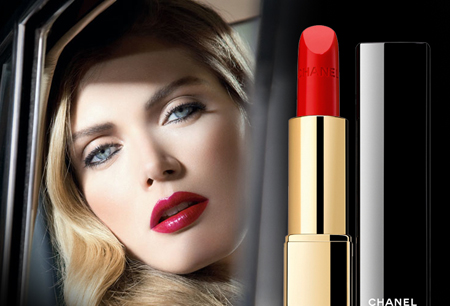 We've written many times about the ultimate scarlet mouth. But I think we deserve just one more post, and that's because Chanel, those uber-purveyors of siren red pouts, have put together some words of wisdom just for us. Yup,  it's true. Us Beaut.ies are getting the special Coco touch today.
One thing Chanel are pretty bloody good at is lipstick. Specifically, red lipstick. When I think of movie star glamour, I immediately think of a classic, true-blue Chanel red. But don't believe me - read what the pros say about choosing that ideal red.
The number one rule from the brand is, "be guided by the season and your skin tone and you'll never go wrong." Seasonality is easy - thick, opaque reds work best in autumn and winter; tone the shade down in summer with sheer gloss or lip tints.
So, that dealt with, here's problem number one: how do you work out your skintone? While it's possible to have a couple of different things going on - redder cheeks and yellow undertones on your forehead, for example, most of us do fit into one of three rough categorisations.
Advertised
Cool Skin Tones
A very Irish way to be. Your skin will have pink undertones, and as a result, cooler, blue toned reds will look stunning on you. If you like a pretty, delicate result, try a raspberry red or be experimental (and fruity!) with berry, cherry, plum and the classic Rouge Hydrabase Rouge Noir. The cool, sharp raspberry of Rouge Allure Sexy is perfect for your skin type
Warm Skin Tones
You'll have a bit of sallowness or yellowness in your complexion - this skintype is incredibly common in Mediterranean people and those who tan easily. If this is you, avoid classic blue-reds and look for warm, orangey reds like tomato, brick, brown-based reds and golden reds. The Chanel bullet of choice? Try the warm golden metallic rhubarb of Rouge Allure Lover.
Black Skin Tones
Yellow, red and blue undertones are all indicators here, and as everyone knows, if you've got black skin you can cherry pick your colour, because you can really carry bold shades brilliantly. Anything goes - warm orange reds will give a bright splash of colour to those with yellow and red undertones, and cooler, deeper reds will contrast and give a bolder, more striking effect on those with deep black skin with blue undertones.
Oh, and FYI, ladies - pucker up, because Chanel also say that a true primary red is a winner every time for everyone, regardless of skintone, and matching your lips to your nail tips is the chicest approach of all.