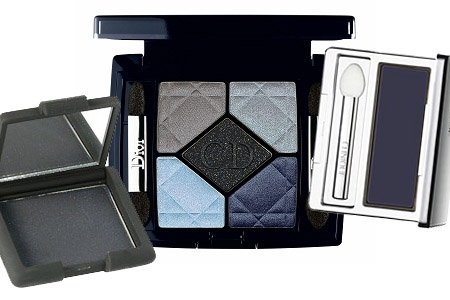 Yup, thasss roigh, as Butty Brennan would say. Blue all the way for me this festive season. I'm not talking about my mood though - I'm talking about my eyes. Since the days got so short and there suddenly seemed to be an embarrasment of opportunities to go out and have a drink or six, I've found my collection of midnight, prussian and navy blue shadows have really come into their own.
Softer and easier to wear than black, navy shadow looks good with all eye colours too -  it makes my brown peepers pop and I always get compliments. So what have I been using? Left in the pic is NARS' Night Flight. It's an incredibly pigment-rich shadow and that image does not do it justice. Fine particles of navy shimmer are saturated throughout and this shade is one of my favourites ever. Be warned though - these babies are incredibly soft and shatter easily, so this is not handbag candy.
In the middle is my new obsession. It's from Dior's christmas collection and it's one of their 5 Couleurs shadow palettes. The shade is Twilight, and at about €50, it's not what you'd call cheap. But I've been getting a huge amount of use out of it - day looks are possible thanks to the shimmery grey shades, and the navy and sparkly black make a rockin' smokey eye. Or wash the baby blue over a lid pre-painted with the navy shade - it's slightly iridescent and adds a nice kick to the colour.
Advertised
On our right is a newish navy from Clinique.  From their Colour Surge Eye Shadow Stay Matte collection, the shade is Dark Denim and while it's not as pigment-packed as the other choices, it's great for defining, and you can also use it with a dampened brush to create liner.
Lastly - a tip for application. If  you're not careful when using pigment-packed shadows, they can go all over your face in an attractive 'blackhead' fashion, adorning you with pin-pricks of colour. So lightly puff on some extra loose powder below eyes and on cheeks to catch stray specks, then brush off once you're done with your eyes. Another tip  - and the thing I do - is to do as Bobbi Brown does, so once you've loaded your brush with shadow, blow lightly on it to remove the excess. That way it goes on your lids, and nothing else.