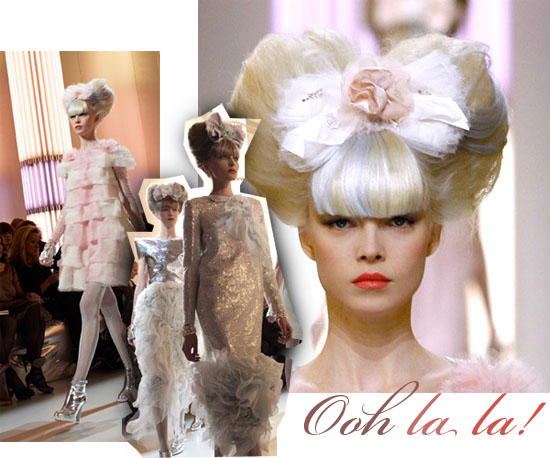 Oh boy. I wasn't too gone on Particulere, I could take or leave the tatts, but my word, do I adore the styling - not to mention HEART-SHAPED BARNETS! -  from Chanel's just-gone Paris Fashion Week couture show.
Ok now, before you all jump down my throat bemoaning this as an Alice-in-wonderland-meets-Minnie-Mouse-in-a-saccharine-factory load of unwearable nonsense, let me add a qualifier: this is haute couture, fantasy, a super-extrapolated version of what'll end up being wearable.
Filtered down to mere mortals, this look signifies that come summer, we may be seeing big, teased hair. We may also be seeing big, teased hair that's got bleached-out and pasteled-in pieces, and sure what do you know? Kate Moss got on the bandwagon early, sporting a blue that looked grey under camera flash, at her Longchamp bag launch last week. She's back to blonde now, by the way.
Advertised
As a look, I love the theatricality of the shots above. It's goijus, as Max, the housekeeper in Hart to Hart was fond of saying about Mrs Hart (Missss Aitch, she's GOIJUS!). For me, nah, I probably won't go for the pastel stripes. Freeway the dog will probably pass, too. But will I try big, volume-tastic hair: deffo. Embellishments? Oh yeah. Oh you betcha. Oh - and that fab coral lipstick? It's Rouge Allure Lipstick in Genial, and it'll be on counter this summer, apparently.
Bravo Chanel, you've done it again.