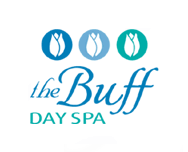 On Saturday I did something I've been meaning to do for absolutely ages - I took myself off to the Buff Day Spa on Dublin's South King Street (right beside the Gaiety) for their Diva Day spa package. My boss had given me a voucher for same ages ago as a lovely bonus/perk, and I just hadn't gotten round to arranging it, what with being a lazy mare.
But finally I rang and booked myself in, and Saturday was the day. In excited anticipation, I re-read the brochure to see exactly what I'd be getting. Ooh - LOADS. The Diva Day consists of a Spa Custom Facial, Aromatherapy Massage, Full Body Salt Glow, Fabulous Feet and Desire Manicure. You also get a lovely light lunch, which you eat in their relaxation area fronting out onto South King St. It's really nice to be pampered and wrapped up in a fluffy robe while watching harried shoppers rush about below! Buff use Phytomer and Dermalogica products for spa and facial treatments, which I was pleased with, cos I love an auld Dermalogica facial, me.
To start with, I was greeted by my therapist Vicky, who did the majority of my treatments. She was so nice and friendly, as actually were all the girls at Buff. I've never encountered a rude therapist anywhere I'm happy to say, but these gals seem to make a special effort to be extremely smiley, chatty and very nice. I like an auld gabber me, so I really appreciate that.
My day started with getting undressed and into a toweling robe and spa sandals. I was then taken to a treatment room. Buff have about 13 rooms - it's a big place but while the girls said they were busy, as a client you don't get that impression. It's relaxing and unhurried due to the amount of space they have.
Treatments began with the Aromatherapy Massage, for which Vicky mixed up a custom blend of oils for me. This was fab - as I faced down, she started on my legs, and really worked them (I can't tell you how long for, as she was so good I began to descend into a contented doze), and then she worked on my back and neck. I have the predicitble tense shoulders and I knew she'd be giving them a good going over, which indeed she did. I then flipped over and she did my arms - all in all, lovely. I was floppy and extremely relaxed afterwards. The only bah I have about this is down to me - I have a sinus infection at the moment and can't smell anything, so I didn't get to partake of the lovely scents she used. Ah well!
Next up was the Dermalogica Full Body Salt Glow - it's more sugary in texture than rock salt, which is what I was expecting, but boy did it work. The crystals were mixed with the same blend used for the massage, and Vicky exfoliated me to within an inch of my life! I then showered, and she finished the treatment with lashings of Dermalogica Ultra Rich Body Cream. Divine. I was as smooth as a baby's arse after all that.
Advertised
I then had a break from my grueling treatment routine and was fed a delicious salmon sarnie with dill sauce on granary bread. I ate this while sipping green tea and flicking through magazines, while snuggled up in a lovely Buff Day Spa robe.
My next treatment was the Spa Custom Facial. Oh facials, how I love thee. This one involved face mapping, steam and lots of delicious lotions and unguents. Yum! Firstly my face was cleansed and then steamed. This does two things - helps the pores absorb more of the products that are being used, and also helps draw out impurities. Exfoliation and massage also occurred but as I was so dozy and relaxed, I..er, can't remember precisely when those bits happened. A face mask was also applied, and I was left to relax while that did its work. The facial finished with moisturiser and a little pack of samples. Ooh freebies! I was also given the results of my skin analysis - this is the 2nd time I've had face mapping done, and each time I've been a bit under the weather. This obviously is reflected in my skin, so all I can say is 3rd time lucky! Vicky did tell me that I had 'refined pores', which I was inordinately pleased with.
Once the facial was complete, I took myself off for my Fabulous Feet treatment. I was all excited about this as I'd never had a pedicure before. My feet were bathed in a foot spa, dried and cuticle cream applied. I was asked to choose a polish shade - naturally I went for a screaming, slutty pink. As I write this, I'm wiggling my toes, and yup, good choice! My cuticles were tidied and pushed back, excess skin and nails were clipped, and rough skin was filed off. My feet and legs were slathered in a pepperminty cream and encased in heated booties - I loved this bit! Finally my toes were painted said shade of slag pink, and I was all done. I chose to eschew the manicure because I really wanted to get home and watch the rugby - and what can I say? It was a wise choice!
My day at Buff cost €285 and I can honestly say it was well worth it. I had a lovely, pampering and relaxing time and everyone I spoke to was lovely. I'd go back again in a heartbeat!
For more information on the treatments available at the Buff Day Spa, check their website for details and prices. And men, you're welcome too - Buff do a range of massages and facials for you, so no need to feel left out.