 We had a look inside my makeup bag at some of my favourite eye shadows recently and this time I thought I'd show off some of my favourite blushes, from Giorgio Armani, Stila and Bobbi Brown.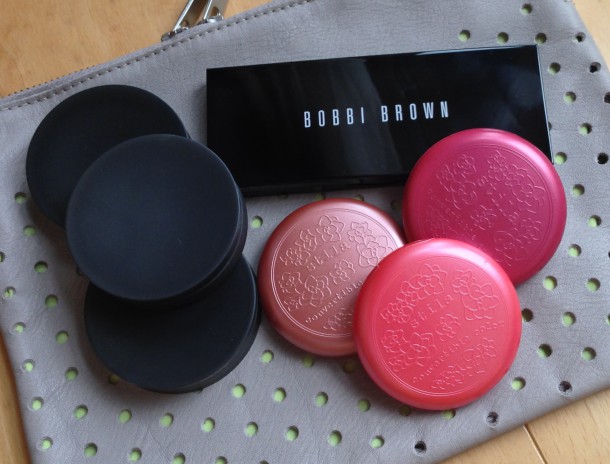 Blush is one of my favourite makeup products at the moment - even when doing the most minimal of faces, there's nothing like a pop of colour on my cheeks to wake me up and make me look a lot more fresh and lively than I generally feel.
Stila Convertible Colours (€21.50) have been favourites since way back when and the fact that they're still part of the Stila lineup after all these years says something for their popularity. I love that these creamy cheek and lip tints come in colour-coded compacts - it makes them easy to pick out in a hurry without having to read labels or decode numbers. Lillium is a peachy neutral pink, Petunia a lively fresh pink and Fuchsia a gorgeous hot pink. The texture is gorgeous too - it's slightly dry to the touch and I find it most easy to apply by just gently pressing my fingertip into the blush and then patting it on. The fact that they can worn on lips or cheeks also makes them ideal for coordinating a look in a hurry and it's the perfect touch-up on the go product to keep in a bag.
Advertised
When it comes to packaging, I love the Bobbi Brown option of building blushes and eye shadows into pallettes. This 3-pan size is ideal for an everyday look with your base and contour eye shades, plus blush. Pale Pink (€26) is a bit of a misnomer here, because this shade is an absolutely beautiful bright pink. It's not scarily bright, but if I look in the mirror in the morning and feel particularly dead, this is the colour I invariably reach for and it never fails to perk me up. I've been complimented on it multiple times too, so it must be doing something right.
Giorgio Armani Sheer Blush (€36), true to its name, is the most divine sheer formula, giving a really natural, lit-from-within look. I have a number of shades from the line-up - of these, #2 is a beautiful neutral pink, #10 a perfect-for-summer slightly bronzed peachy pink and #12 a silvery-toned pale pink. It's pretty hard to overdo it with these, but that doesn't mean they're lacking in colour. And the smooth, silky formula makes them a pleasure to apply.
Advertised
What are your favourite blushes right now? Let us know in a comment!