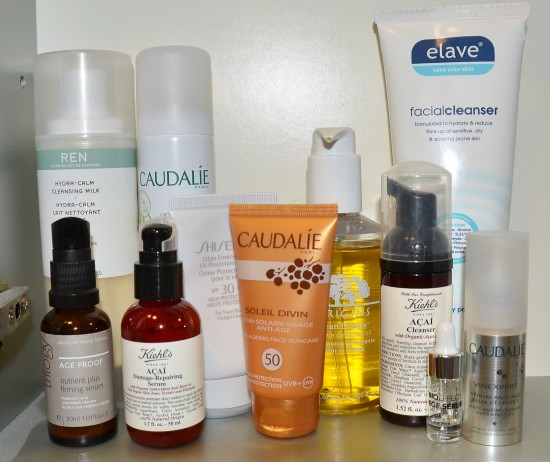 I've changed it up a bit with my skincare routine recently - coming out of winter my skin is not as dry as it was anymore and using sunscreen on a daily basis again meant a change in my cleansing routine was needed. So as I surveyed the bathroom cabinet last night (it's in need of a clear-out anyway and Himself has been complaining about my "half" spilling over into his), I thought it was time for a little post on my current routine.
Cleansing:
Kiehl's Acai Damage-Minimizing Cleanser: This is a handy travel-sized bottle that came free with the Acai serum. I don't usually use a cleanser in the morning, but since I've been using the Bio-Effect EGF Serum at night, I feel I need a bit more than a splash of water to rinse it off in the morning. The Kiehl's cleanser is quick and easy to use and leaves my skin fresh and clean, but not stripped.
Origins Clean Energy Cleansing Oil: I use this for removing makeup and sunscreen and still like it as much as I did when I last posted about it.
REN HydraCalm Cleansing Milk: Sometimes my skin feels a bit more delicate than usual and I find a milk cleanser feels a bit nicer to use than an oil cleanser, which is when this one comes on. I've also blogged about this one before under its previous name - love it.
Elave Facial Cleanser: When I bought this I mistakenly thought it was a foaming gel-type cleanser, handy for use in the shower when I'm washing my hair and want to use something quick on my face. It's actually a cleansing cream, but I'm still using it in the shower and it works well to remove makeup even without a muslin. No frills packaging and no bells or whistles involved, but nice and gentle, yet effective, for sensitive skin.
Caudalie Organic Grape Water: Used after cleansing and before applying serum or moisturiser - really helps skin to absorb oil-based products in particular and feels lovely and refreshing on the skin.
UV Protection:
Advertised
Shiseido Urban Environment UV Protection Cream SPF30: I blogged about this last summer and I still like it as my daily sunscreen. It provides plenty of protection for normal days when I don't have much sun exposure and it keeps my skin nice and soft.
Caudalie Soleil Divin Anti-Ageing Face Suncare SPF50: I decided to try this one for the first time this summer, on the off-chance that we ever see enough sun for me to want more than SPF30, that is. I find it more fragranced than I'd like and the application isn't as easy as it is with the Shiseido, but once on it has no shine or stickiness and wears well all day.

Treatment and Hydration:
Kiehl's Acai Damage Repairing Serum: I like the idea of an anti-oxidant serum under sunscreen - both to add moisture and boost protection. What a surprise - I've blogged about this one before too!.
Trilogy Age-Proof Nutrient Plus Firming Serum: Another favourite, I alternate this one with the Kiehl's some days when my skin feels a bit more sensitive and needs a very gentle hydration boost.
Bio-Effect EGF Serum: Kirstie's review made me really curious about this, and I've been using a sample of this at night for a couple of weeks now. While I love that I only need to apply one product after cleansing, I'm still waiting to see if the effects are visible enough for me to consider splashing out on it, considering the high pricetag. So far my skin hasn't reacted badly and it does feel nice and smooth, but I'd need some hardcore improvements to spend the full price on it.
Caudalie Vinexpert Anti-Ageing Serum for Eyes and Lips: I use this in the morning to firm up and smooth out the under eye area (I also use this at night when not using the Bio-Effect EGF Serum). It makes the under eye area look much smoother, plumper and brighter and doesn't bother my sensitive eyes at all.
Are you using/have you used any of these products?