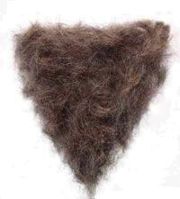 Yesterday on the Blather those who had attended the Spencer Tunick nude fest confessed to having spotted some rather bushy lady gardens. And the Sunday Times also proclaimed the return of the afro look to the cha-cha region at the weekend.
Does this mean the Age of the Brazilian is coming to an end? None of us relish the thought of looking like a pre-waxed Miranda in the SATC movie do we? But maybe the dedicated followers of furry fashion amongst you will want to grow out those Brazilians pretty rapid.
There's a dilemma though. Like a fringe that's unruly state while it grows out, oh what to do when you're at that awkward half way stage? Gingerrama had a suggestion.
Advertised
A merkin that's what.
A stick on lady garden wig.
Yes really. They have a very unsavoury origin (read it here) but they're still around - and the fact that sites like Merkin World exist tells us that although we're not syphilitic prostitutes, we too might still like a 'fun' merkin.