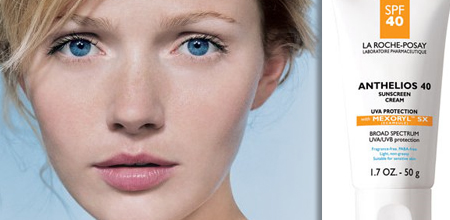 Jen contacted Beaut.ie HQ with a dilemma. She's from the US but is of Irish descent and "was hoping to learn a few secrets from other individuals with Irish DNA. Anyways, I know you have a lot of posts on the topic of foundation, but I have really sensitive skin and most foundations cause breakouts for me. Surely other Irish gals out there have this issue -- I'm naturally pale, even when "tanned/burned" and I have ultra ultra sensitive skin. Can any of you point me in the direction of a few products that might be sold in the US?"
Well Jen (oh I felt myself thinking in a deep Dear Frankie voice there) you're dead right. These are the exact problems we battle with every day - except we don't have as much sun as you probably do!
I would suggest that you get some La Roche Posay - it's fantastic for sensitive, fair skin. Your first step should be to keep the sun away from your face - you'll need to keep a factor 40 on your visage. Finally the FDA have approved Mexoryl, the sunscreen ingredient we in Europe have relied on for years, so you can buy La Roche Posay Anthelios online here.
Advertised
But I can't find a US stockist for the La Roche Posay foundations and in their absence I would recommend Almay.
Also have a read of this post on Rosacea as it sounds like you might get some good tips for dealing with your skintype
Now have you lot got any bright ideas for Jen?