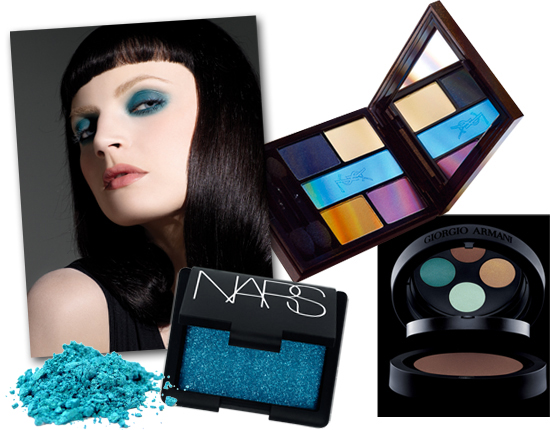 Lilac was all-in for eyes this spring, and weather aside (we hope), the hottest shade this summer is going to be blue. Azures, turquoises and full-on ceruleans are all a point of focus, and loads of the big brands are right on point.
So, what's good to wear? Clockwise from top right we have YSL's beautiful Tresor D'Afrique 5 colour eye palette. A hefty €57, we took a dekko at this before, and I can confirm that is is a beautiful product. And sure next up is another completely beautiful buy - it's Giorgio Armani's Mediterranean Palette and it's €65. Whaddya get for that? Four shades for eyes and a bronzer for face, all dickied up in a gorgeous matte black compact, which has a generous mirror in the lid.
The model's wearing it, and it's got to be my fave too: NARS are offering their Single Eyeshadow in Tropic. At €23 it's expensive for a single, but the brand's shadows are feckin' terrific. This baby is a pigment-packed glittering teal shade that will make brown eyes pop.
Advertised
Lastly we have a glittery pile of Krush mineral eye shadow in Peackcock Blue from Australian brand Vani-T. They're marking themselves out as a brand in the mineral spectrum who actually have exciting shadow shades, and I'm delighted to see it. Krush Mineral Colour Crystal Eye Shadows come in 40 shades, for €19.72. Buy from www.vani-t.eu, or call 085 750 2114 for a stockist near you.