 There's nothing quite as satisfying as having a good old fashioned perve on somene else's makeup bag. You can learn a lot about someone's habits (year-old unwashed makeup brush ladies, I'm looking at you!) and preferences.
So we thought we would have a goo into the cosmetic mountains (in some cases, EU quotas *may* have been surpassed) of some us here at beaut.ie HQ. And for my sins, I volunteered to jump in first.
For me, makeup is an investment - so I tend to go for quality products that I can trust for my everyday essentials. And I rotate what's in the daily makeup bag by dipping every once in a while into my obscenely large collection and switching things up. Like all makeup artists, I have an embarrassingly large collection (it reveals the extent of my obsession) to choose from, but usually opt for multi-purpose, hard working products on a day-to-day basis.  I also avoid brushes as much as possible - everything I've been using on my skin is applied with fingers.
So here in all its (probably underwhelming) glory is my daily makeup bag at the moment. I keep everything in a small bag, otherwise I'd add and add products until the bag grew into some manner of cosmetic mutant that demanded its own bedroom.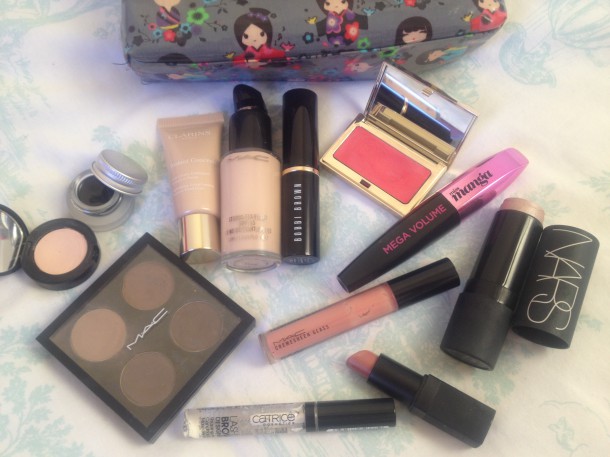 Skin
I always keep two foundations in my daily bag as I can't anticipate what my skin will be doing - this week, I've been wearing Bobbi Brown's Foundation Stick in Alabaster because my skin has been a little dry. When it is being an oily pain in the hoop (as it usually is) I opt for Mac's Studio Fix Fluid in NW10. I apply either with fingers.
I've also had some serious undereye circles lately, so I've brought out the big guns- Clarins Instant Concealer is one of the best out there for the eye area. If things are in a really bad way, I'll follow it up with some Bobbi Brown Corrector in Porcelain Bisque to counteract the dreaded blueness.
Since my usual day look is pretty simple, I like my skin to look radiant, so I prefer a cream blush rather than powder to add some light reflection. It also saves on brushes! I love applying some of Clarins' Multi-Blush in Grenadine to the apples of my cheeks with my thumb or ring finger. I build it up in really thin layers to create a natural looking flush.
Then, to give my face some structure without the hassle of contouring, I like to add a natural looking highlight. Nars Multiple in Copacabana is my favourite cream highlighter - again, no need for a brush!
Advertised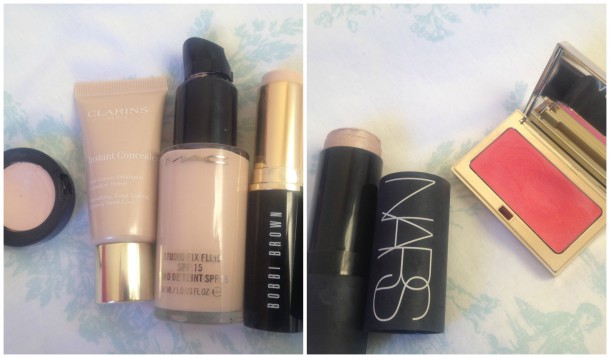 Eyes
I'm very frequently too lazy to apply eyeshadow. Since I love a simple cat eye flick, and wear it pretty much every day, I leave my lids bare and apply my flick with Maybelline Gel Liner and a fine liner brush.
My mascara of choice at the moment is the beyond excellent Miss Manga by L'Oréal - one coat of that and my eyes are done!
To compensate for the lack of eyeshadow, I always apply powder to my brows. I've put together a custom palette of my favourite Mac shadows for brows - Omega and Concrete generally do the job nicely. I then finish up by brushing them into place with some Catrice clear brow mascara.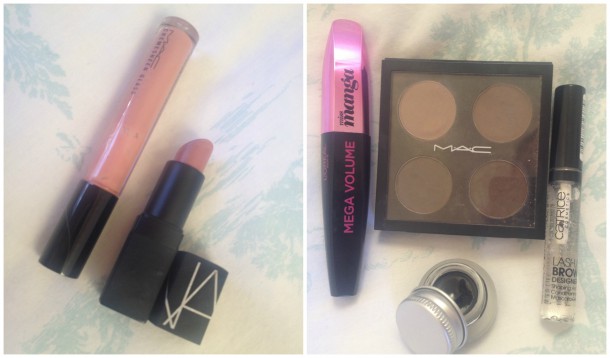 Lips
If I can be bothered (and honestly, I often can't), I'll apply a nude lip. I always keep a nude lipstick and gloss in my daily bag because I just love a classic nude.
Nars Pago Pago lipstick is one of my favourite natural looking nudes of all time.
If I'm going even more casual, Mac Cremesheen Glass in Boy Bait is my nude gloss of choice.
Advertised
And that's it! We'll have another makeup bag under the cosmetic spotlight soon. But for now, go forth and judge my stash...