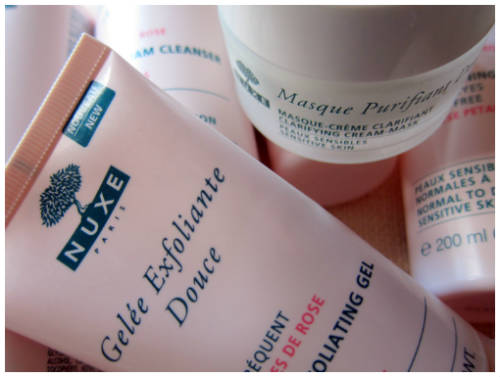 Until the arrival of fancy French skincare, I associated pharmacy brands with bargain basement prices and lesser quality products than their luxe department store equivalents. But these days, the shelves of my local chemist are lined with brands like Roc, Avene and La Roche Posay, who all offer high performance products at affordable price points.
NUXE is no exception. To me, they represent high end quality at mid-market prices and their products often feel like they're much more expensive than they actually are. The brand name is is a combination of nature and luxe and the company is committed to using natural, active ingredients.
The star ingredient in their new cleansing range is Moroccan Damascus rose water, used for centuries for its skin toning, softening and moisturising ways. We've looked at the new NUXE Micellar Cleansing Water and over the past few weeks, I've been trialling the rest of the products in the range.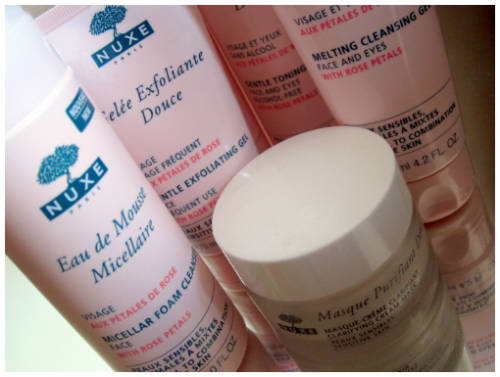 Melting Cleansing Gel
The products come in pale pink packaging and offer a variety of textures and formulas, all with the same delicate, floral fragrance which, personally, I love.  For me, the stand out cleanser is the Melting Cleansing Gel, €13.45, which has a lovely light texture and can be used on the eyes. Used with my muslin cloths I've found this does a good job on makeup removal, too.
Advertised
Micellar Foam Cleanser
This is great on skin that's sensitive or normal-to-combination, as is the Micellar Foam Cleanser at €14.90. For those who prefer to cleanse with cotton wool, a cleansing milk and toner, both €14.45, are on offer, recommended for skin that's sensitive or normal-to-dry.
A gentle exfoliating gel, €17.90, and Clarifying Cream Mask, €19.40, round out the range and both are a real pleasure to use. They're suitable for all skin types, including sensitive: the gel isn't too 'scrubby', while the cream-mask gently draws out impurities. Used together, they brighten the complexion and leave my face feeling lovely and soft.
The NUXE rose petal range is out next month. Is anything calling your name?