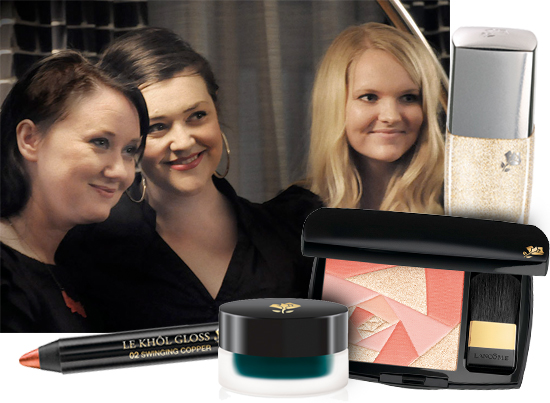 Kat from bjooti.net, moi, and Emily from myfashionlife.com
Writing about beauty can be quite a jammy occupation, it has to be said, especially when companies see fit to throw a few products my way, or better yet, whizz me off places.  Lancome are the current leaders in the whisking-off-places race - during the summer I got to spend a sunshiney day on a bateau mouche going up and down the Seine as I sipped champers and messed about with makeup from their autumn winter Declaring Indigo collection. Yep, I know. God love me and my hard life.
For the launch of the brand's spring summer 2010 collection, Ô My Rose!, naturally they had to go one better, and myself and bloggers from all over Europe (and one who flew from the states, no less), converged on gay Paree again for Lancome's first makeup party. We were put up in the Hotel Lumen, a boutique space a stones throw from the glamour that is the rue Saint-Honoré, and also just down the road from the Louvre. Not a bad spot, so.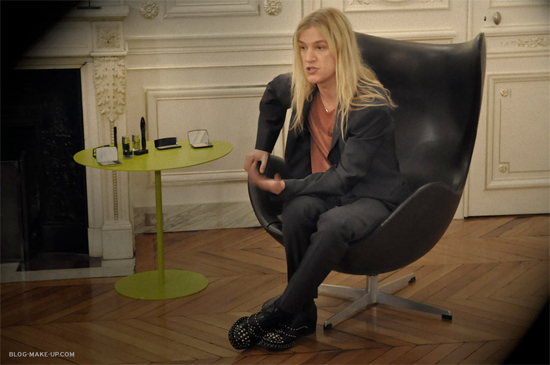 The location for the party itself was a privately-owned (and colossal!) 350sq metre apartment, decorated in an on-trend, high-octane blend of old and new (plaster mouldings, marble fireplaces and parquet floors mixed with chrome and glass finishes, Italian design and futuristic lighting) and once we were ensconced with champers in hand (or Diet Coke if you were me; the migraines), Lancome's creative director, Aaron de Mey, above, talked us through his vision for spring summer 2010.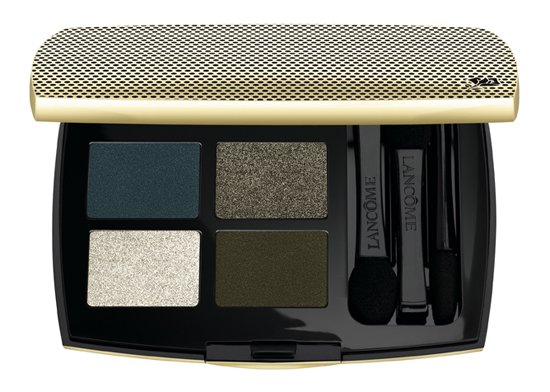 Ô My Rose! was inspired by the 60s, pop art (the eye palette, above, features a printed pixel design as a nod to Roy Lichtenstein) and Brigitte Bardot. De Mey always seems to use a grab-bag of cultural references and contrasts and the new collection is step up from Declaring Indigo, I reckon. For starters, it's a lot more wearable - while I'm still rocking the red lip products from that collection, blue just ain't my shade.
Teals, khakis and contrasting corals make a great spring-to-summer look this time around and there are some nice new touches and departures, which really bring home why de Mey's appointment has been a good move for Lancome.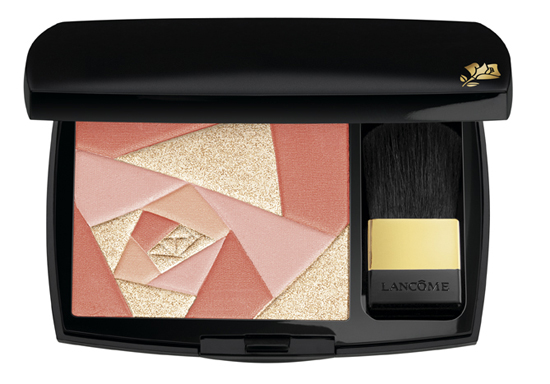 He's really coming into his own now and is forging ahead with products that have prettiness as well as purpose - something that can often be lacking in seasonal collections, when things look great, but don't really deliver. Along side the expected eye palettes (there are two, Pop'n'Petrol and Pop'n'Copper), lip and cheek products (the Pop'N'Cheeks blusher/face powder, above, didn't really grab me to be honest, it's nice but the gold finish comes off on the first use which is a bit of a shame), there are at least four things I got a big flutter of excitement about.
Advertised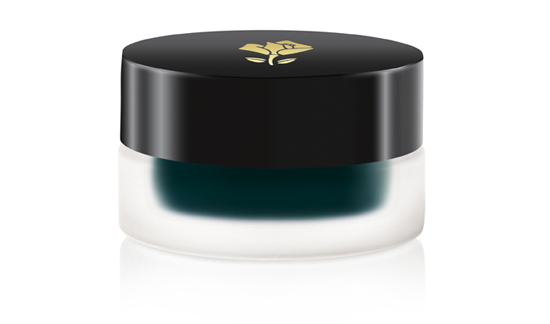 First up was the Ink Artliner €28.50, in Pop Petrol, is a gorgeous deep, dramatic teal that looks beautiful on. It looks just as nice with the palette as it does with what's below: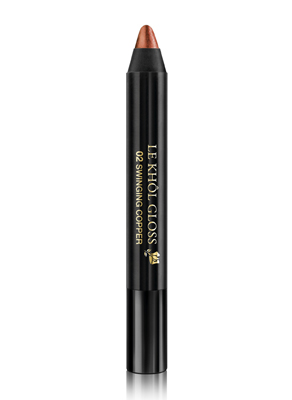 One of three Le Crayon Khôl Gloss, €23, this is Swinging Copper and there's also Pop Petrol (a gorgeously pigmented and shiny teal) as well as a nude, B.B Sand. Gloss is a bit misleading here as these crayons are for eyes, and provide a really decent amount of coverage that you can draw on and leave as is or easily smudge out. They also work really well as a primer for a matching eye shadow shade. Below you can see a pic of me having some applied: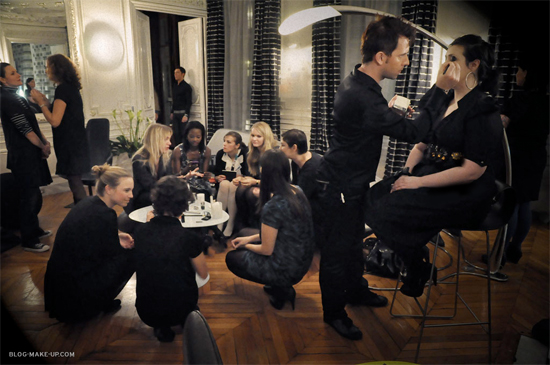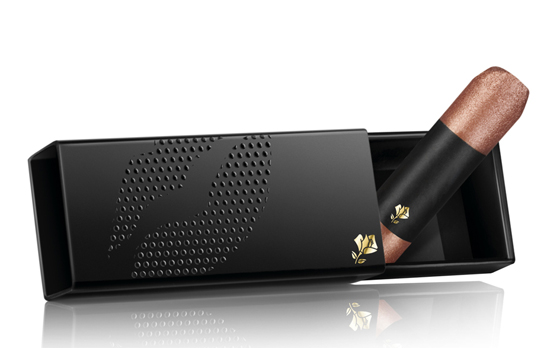 I also really fell for B.B Kiss, €25.50 (de Mey refers to this as Baby Kiss). This little box of curiosities was inspired by Geisha makeup and can be used wet and dry. Essentially it's densely compacted pigment in a little pastel/crayon form and while I love the idea, the shade is too warm for my skintone. We did get a bit of a hint that more shades might be in the offing in the future and I'm really looking forward to that.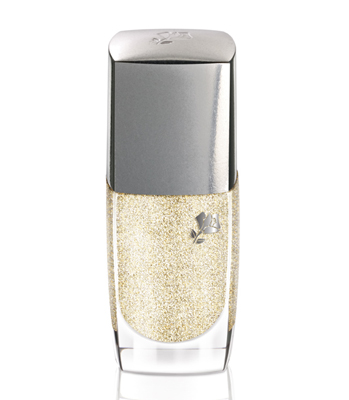 The last product I adored immediately was this gorgeous nail polish in B.B Sand, €20.50. There is a HUGE amount of fine glitter in here and it looks amazing on, even with one coat. Two layered over a dark shade (there's also a deep, shimmery petrol) looks amazing but I've been using it as a twinkly french, and it looks super-cool. This is one I'll be using a lot over Christmas.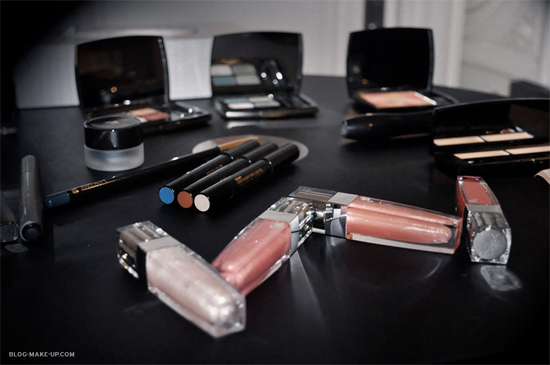 I reckon that's quite enough pictures for one post, but there's more to come in the collection - here's the run-down of the lot, and if you want to get your paws on Ô My Rose! then it'll be on counter in selected pharmacies and department stores on 26th December 2009 and nationwide from 15th January 2010
Advertised
Pop'N'Cheeks €45
B.B Kiss €25.50
Pop'N'Palette €tbc
Ink Artliner €28.50
Crayon Khôl €16.50
Hypnôse Drama €25.50
Color Fever Gloss €20.00
Laque Fever €24.50
Le Vernis €20.50
Pix courtesy of Kostia PETIT and Lancome.