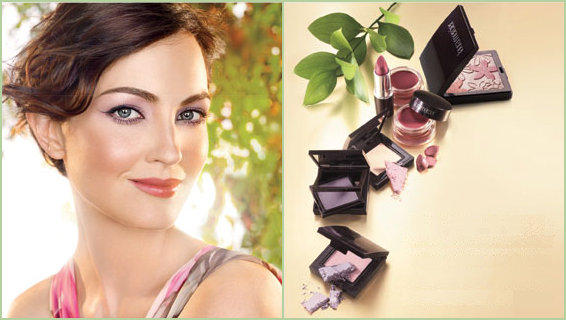 As we emerge from the depths of winter and start to bask in the warmth of that round yellow thingy in the sky and say things like "Grand stretch in the evenings!" without being able to help ourselves, I think a lot of us like to go for something a bit inbetweeny in terms of make-up. Something to bridge the gap between the darker, moody colours that we tend to favour in the colder months and the über brights of summer. We want natural, wholesome, healthy, glowing. We want to look like ourselves only prettier and more perfect.
Looks like Laura Mercier are on the same wavelength - their limited edition Gilded Garden collection is awash with subtle tones, mostly in the form of pinks, golds and lilacs for eyes, lips, and cheeks. All are quite sheer with a hint of shimmer and look utterly wearable, and should be perfect for a soft, romantic spring look.
Without question, the pièce de résistance is the Gilded Garden mosaic shimmer bloc (or "blusher" to me and you), €45, with its embossed floral motif. Niiiice. Complementing that are a bouquet of lustre or sateen finish eyeshadows in Marigold, Lilac, Orchid and Pink Tulip, €27, and a crop of lip colours. Take your pick from English Rose or Hibiscus lipstain, €27, or stickgloss lipstick (lipbalm, lip colour, and gloss in one) in Azalea or Tiger Lily, €24.
Advertised
On counter now in Brown Thomas Dublin.